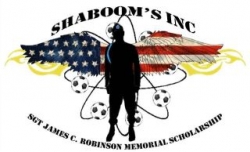 Middletown, OH, October 21, 2013 --(
PR.com
)-- The 3rd Annual Sgt. Jimmy Memorial Scholarship Spaghetti Dinner takes place on November 9, 2013 and benefits the James C. Robinson Jr. Memorial Scholarship Fund. The fund was created in honor of Sgt. Robinson by Shabooms, a 501c3 non-profit corporation. According the Jimmy's father: "Shabooms is a catch phase that Jimmy used in his third tour of duty in Afghanistan. It was only befitting that our non-profit be named Shabooms." Sgt. Robinson was killed on that tour on August 28, 2010 during a Taliban mortar attack on FOB. Boris, Paktika Provence, Bermal Afghanistan.
The cost is $10 per person and Kids 10 and under eat free. There will be a cash bar, Live DJ provided by Tyler entertainment. Silent auction, A quilt raffle, and 50/50 tickets. All proceeds benefit the Sgt. James C. Robinson Jr. Memorial Scholarship Fund. Donations can also be made online at www.shabooms.org, they look forward to your support.
Contact: James C. Robinson Sr. at info@shabooms.org or at 513-435-0216.