Concord Chocolate Factory to Add 40 Jobs
Rachel Dunn Chocolates, located in Concord, CA is using a unique approach to finding the best talent for their holiday job search. Interested applicants can apply by submitting a brief YouTube video talking about why they would be great for this sweet opportunity. Learn more at www.RachelDunnChocolates.com (Select Talent Search from the title menu.)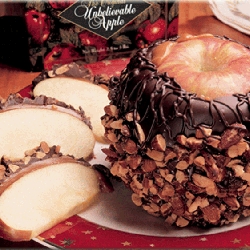 Concord, CA, October 29, 2013 --(
PR.com
)-- 2013 Holiday Talent Search Announced.
Rachel Dunn Chocolates, the Nation's largest caramel apple maker, is proud to announce that their 2013 Holiday Talent Search is underway! Applicants are being asked to submit a video along with an online application. Positions range from customer service to mail order fulfillment. The search will continue until 40 exceptional individuals have been hired.
Rachel Dunn, said, "There's so much more to a person than a paper employment application can express. That's why we're asking applicants to submit a brief video explaining what talents and skills they bring that will enhance our customers' holiday experience."
By utilizing YouTube, Rachel Dunn Chocolates has elevated the interview process for the applicant. Candidates first create a video (2 minutes or less) and upload the video to YouTube. Next, they go to the Rachel Dunn Chocolates website, (www.RachelDunnChocolates.com) and click on "2013 Holiday Talent Search" to fill out a mini employment application. Submissions are being reviewed, and follow-up interviews will begin immediately. All positions are based in Concord, California.
Rachel Dunn Chocolates is an equal opportunity employer and does not discriminate against any employee or applicant on the basis of age, color, disability, gender, national origin, race, religion, sexual orientation, veteran status, or any classification protected by federal, state, or local law.
Since 1984 Rachel Dunn has been making chocolate confections of the highest quality, serving US Presidents, royalty, Grammy-award winning artists and people everywhere who appreciate fine foods and great chocolate confections.
In 1986, Rachel Dunn introduced the world to The Original Unbelievable Apple. Heralded by Rosie O'Donnell, The Food Network and Oprah, at a whopping 2.5 - 3 pounds each, The Unbelievable Apple simply dwarfs all others! Cut into quarter pound slices, one apple generously serves 10-12 people. The gigantic Fuji apples, and their crispy, sweet texture melds heavenly with soft buttery caramel, luxurious Guittard chocolate and crunchy roasted almonds!
The 2013 harvest has arrived, and shortly, hundreds of thousands of Original Unbelievable Apples will be on planes bound for everywhere from friends and family sharing this San Francisco Holiday Tradition.
A number of high-resolution graphics are available for print, web, and television use. Please contact jkasper@kaspermedia.com to have your choice emailed directly to you.
Contact
Rachel Dunn Chocolates
Jeff Kasper
925-798-4321
www.racheldunnchocolates.com

Contact
Multimedia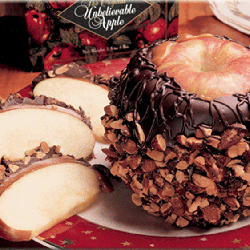 Here's a photo of Rachel Dunn Chocolate's signature gastronomic delight, The Unbelievable Apple.