Kay Koplovitz, Founder of USA Network, to Keynote at Women 2.0 Conference in Las Vegas
Conference brings together Tech leaders and innovators to discuss the convergence of work, play, fashion, life and technology.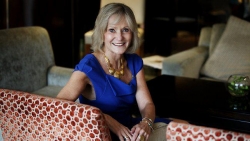 New York, NY, November 12, 2013 --(
PR.com
)-- Kay Koplovitz, founder of USA Network, author, co-Founder and Chairman of Springboard Enterprises and cable television pioneer, will give the keynote at the 2013 Women 2.0 conference in Las Vegas on November 15th. The theme of this year's conference, "2020 Vision: Designing Work, Life and Play", focuses on the interjection of technology in all aspects of life in society.
In her keynote, "Disruptive Technology, Then & Now: My Story", Ms. Koplovitz will explain how new technology influenced her to create and found two of the most successful cable television companies in history: USA Network and the SyFy Channel. Ms. Koplovitz will also delve into current and upcoming technological advances that intrigue and inspire her and how they motivate her values and work. As co-founder and Chairman of Springboard Enterprises, an accelerator for women raising capital for high growth technology and bio-tech businesses, Ms. Koplovitz stated, "This is not only my challenge, but one for all business leaders, to figure out how to incorporate the idea of abundant knowledge into practical life. Business leaders in today's world need to understand and respond to the speed at which technologies are changing our world."
To exemplify how she envisions incorporating exponential technological growth, Ms. Koplovitz is instrumental in helping women build out scalable and sustainable businesses through Springboard Enterprises. Launched in 2000, Springboard has brought 537 women-led companies to market. Collectively they have raised $6.2 billion, creating tens of thousands of jobs and liquidity events for investors including 10 IPOs. She is the co-author of Bold Women, Big Ideas, which she wrote to inform and inspire women to think big about their businesses and to raise equity capital.
Ms. Koplovitz will also participate on a work panel, "Future of Funding" alongside Ash Fontana, AngelList, Christine Tsai, Partner of 500 Startups, and Aileen Lee of Cowboy Ventures. Jeff Clavier, Founder of SoftTechVentures will moderate the panel. The two day conference will conclude with the PITCH Awards ceremony. PITCH is a competition for early stage, women founded start-ups.
Conference details:
Event: Women 2.0 – 2020 Vision: Designing Work, Life and Play
Date: November 13- 14, 2013
Location: Bellagio Ballroom, Las Vegas
Registration:
lvconf13.women2.com/
Follow Ms. Koplovitz on Twitter at
@kaykoplovitz
, on Facebook at Kay Koplovitz and on LinkedIn at http://www.linkedin.com/in/kaykoplovitz
About SpringBoard Enterprises
Springboard Enterprises is a highly-vetted expert network of innovators, investors and influencers who are dedicated to building high-growth technology-oriented companies led by women. Our programs and initiatives are how we source, qualify, advise, showcase and support the most promising businesses seeking capital or partnerships for product development and expansion. SpringBoard has raised nearly $6 billion in financing, has created thousands of jobs and has generated billions in revenue. Learn more about SpringBoard at their site - https://sb.co/ and follow on Twitter -
@springboardent
Contact
Koplovitz & Company LLC.
Zaira Zafra
212-332-4401
www.koplovitz.com

Contact