Voting Rights 65 Years Ago: Remembering Isaiah Nixon
Mr. Isaiah Nixon, an African American, husband and father of six, who voted in Georgia's Democratic primary election on September 8, 1948 in Alston, GA (Montgomery County). That evening, Nixon was shot three times by J.A. Johnson in front of Nixon's wife and young children. Nixon was transported to a hospital in Dublin, GA where he died two days later. After forty-five minutes of deliberation on November 5th, Johnson was acquitted.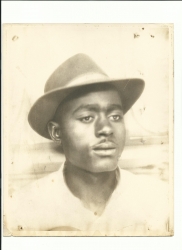 Jacksonville, FL, November 15, 2013 --(
PR.com
)-- To a full congregation, Sunday afternoon at 2:00p.m., November 10, 2013, the United Nations Educational Scientific & Cultural Organization - Transatlantic Slave Trade (UNESCO-TST) Florida and The Rosewood Heritage Foundation, Inc., held a Memorial Service honoring Mr. Isaiah Nixon at The First African Baptist Church, Rev. Craig B. Snead, Sr., Pastor. With the National Color Guards from the JROTC Thunderbolt Regiment of Vidalia, GA, under the leadership of First Sergeant Yusuf K. Brantley, US Army (Retired). The program honored veterans and Men's Day in Mt. Vernon, Georgia and surrounding areas of Montgomery County.
Voting rights recognition of Mr. Isaiah Nixon, September 8th, 1948 was given by Attorney Chris Bridges, a law student who researched the Nixon Case in his Civil Rights & Restorative Justice Project (CRRJP). Bridges along with two other law students received an award and funds from Northeastern University (NU) for their findings on three Georgia cases. President Joseph E. Aoun of NU in the award presentation stated "What we are doing here is not only not divorced from reality, it's going to change reality." Bridges graduated from NU, Boston, MA in 2012 and is now practicing law in California.
At the 9:00a.m. cemetery service, a local citizen, Deacon James Harris was told the Nixon story by his father. Harris is also the chairman of the cemetery that Nixon is buried in Alston, GA. A beautiful cement bench was donated by an UNESCO-TST Board Member and placed in the cemetery on the Nixon family plot. Attorney Bridges dug a hole and planted a magnolia bush. Harris presentation named four African American farmers who were harassed along with Mr. Nixon. He shared the aftermath of how African Americans lived in the community and stressed the importance of voting rights, as related to the recent U.S. Supreme Courts decision.
The Nixon Family's response for the commemoration at the cemetery and church was given by Mr. Winston Antonio Williams, grandson of Mr. Isaiah Nixon. Mrs. Sallie N. Zimon, a spry 90 years old widow gave her testimony. In the audience were daughters: Dorothy Nixon Williams, Connie Nixon Fountain, and Margaret Nixon McCrary along with other family members and friends. Mentioned were the deceased Nixon children: Margaret Ann Nixon Hill, Hubert Nixon, and Isaiah Nixon, Jr.
Special thank you plaques were given to First African Baptist Church, Mt Vernon City Council, JROTC, Old Salem Cemetery, and to others who helped to make this program a success.
UNESCO-TST recognizes slavery in many forms; with educational conferences, memorials, workshops, and historical bus tours. Come join us January 17-19th, 2014 in collaboration with the Gullah Geechee Nation of Jacksonville, Florida on a Heritage Corridor Tour (Jacksonville to Charleston). This tour will have a UNESCO member from Sierra Leone, West Africa highlighting the connection of the Gullah language and culture to Africa. https://www.eventbrite.com/e/unesco-tst-heritage-tour-gullah-geechee-corridor-tickets-8399383783
Contact: UNESCO-TST Education Project – Sherry DuPree 1-352-281-2286
Isaiah Nixon
Photo courtesy of Dorothy N. Williams
Jacksonville, FL.
Contact
UNESCO-TST
Sherry DuPree
352-281-2286
www.displaysforschools.com
1-800-245-4645

Contact