The Best Gift Ideas for Boys 6-10 from the Experience of a Big Brother Big Sister Volunteer
Big Brother Big Sister Volunteer Offers Tips on Several Unique Christmas Gifts for Active Boys.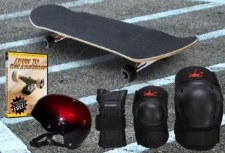 Erie, PA, November 18, 2013 --(
PR.com
)-- "I've spent countless hours working with children throughout my two years as a Big Brother Big Sister Volunteer," says Nathan Wheeler. "From my experience, the most important considerations when buying a gift for boys age 6 to 10 are developmental in nature. It's great to have fun, but when you can give the child life skills, it takes it to a whole new level." Here are some gift ideas Wheeler and other experts in children's activities suggest, ranked according to:
1. Does it keep the child active?
2. Does it improve the child's development and life skills?
3. How positively will the boy respond to his gift?
4. Is it a deal?
Idea 1 Children's Skateboarding Starter Kit
Rob Dunfey, CEO of Goskate.com – a top skateboard lesson provider in the U.S. – touts the benefits of Skateboarding as a developmental hobby:
"Skateboarding has been increasing in popularity since the advent of the X-games, Shaun White, Tony Hawk, and so many others. Kids are practically drooling over these X-game heroes – playing video games about them, wearing their gear, and acting like them. Skateboarding improves coordination and requires a surprising amount of physical effort – keeping the kid skateboarders in great physical fitness. Skateboarding kids also get a bit of a 'cool kid' status with their friends."
Dunfey went on to say "I never seen another activity that could help children develop confidence and fitness like skateboarding. In most cases these children will continue loving to skateboard for a life time." Dunfey also states that parents like the fact that taking kids to team practices is not necessary with skateboarding.
To get
kid's skateboards
check out www.skateboardforkids.com. They arrive within a week.
This gift idea for active boys checks out with all four ranking factors.
Idea 2. Sandbox Digging Toy
Wheeler suggests the digging toy since it is a great way to get a child active while they play make-believe as a heavy equipment operator. The child learns coordination while getting great exercise. The toy can be used in a sandbox, in the snow, or in soft ground. Find the "Sandbox Digging Toy" at Amazon.com or a number of other retailers online.
This gift idea for active boys checks out on all four ranking factors.
Idea 3. Robotic Blocks
"Helping a child learn creative problem solving skills has to be done in a fun manner or the child will lose interest before they learn," says Wheeler, "My 'little brother' is obsessed with the educational game – Mindcraft – illustrating that children are having a blast learning to solve problems. The Robotic block takes the concept to a new level since the boy is physically assembling simple parts to the robots in different ways. It's like Legos on steroids." Find these educational toys at modrobotics.com
This gift idea for boys 6-10 checks out on three ranking factors.
If you would like more information about this topic, or to schedule an interview please contact Nathan Wheeler at (866) 914-4757
Contact
skateboardforkids.com
Nathan Wheeler
814 392 3158
skateboardforkids.com

Contact