Lulu Avenue Stays on Trend with Stylish New Mobile App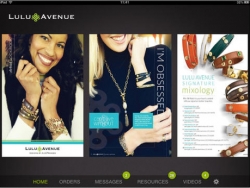 Morrisville, NC, November 22, 2013 --(
PR.com
)-- Lulu Avenue, a direct sales and e-commerce jewelry company, has launched Leapfactor's Salesfactor iPad App. The Lulu Avenue Go iPad app is available via the app store for their Style Advisors to assist them in effectively running their business no matter where they are.
The Salesfactor iPad app combines the cool and easy-to-use experience of consumer apps with a wide-range set of features that will help Lulu Avenue Style Advisors to showcase products, take orders and get training directly from their iPad.
This is Lulu Avenue's first iPad app and it will allow their Style Advisors to not only have real-time access to their business, but will also allow them to review training information, videos and place customer orders even when they do not have WiFi access.
"I couldn't be more excited about the launch of our new Lulu Avenue Go iPad app. This app will give our Style Advisors the tools they need to conduct their business anytime, anywhere, on the go. At Lulu Avenue we are proud to offer our Style Advisors the latest in technology to assist them as they build their business," said Michelle Jones, Lulu Avenue President.
The iPad app for Lulu Avenue is just one example of how companies can rely on Leapfactor's app solutions to distribute content, process transactions and trigger real-time events in an enterprise fashion. With the Salesfactor app, sales reps can dramatically impact the moment when a customer is about to buy via enhanced engagement and a simplified approach to previously complex and tedious front-end manual order entry.
"Leapfactor is proud to provide Lulu Avenue with an application that will enable their Style Advisors' iPads to be transformed into a sales, presentation and training tool with the most up-to-date information in any format that can be accessed online or offline," said Lionel Carrasco, Leapfactor CEO. "We are excited to welcome Lulu Avenue to the growing list of Direct Selling companies that have gone mobile and are adopting our Salesfactor mobile app solution to empower their reps in the field."
About Leapfactor:
Leapfactor provides business mobile apps to help sales teams enrich the way they conduct business while on the go. Leapfactor's flagship product, Salesfactor, combines high-end user experience design, prebuilt baseline modules and cloud-based technology that quickly integrates with existing processes and backend systems to provide an engaging sales experience. This award-winning mobile solution has already enabled multiple direct selling companies and their consultants to present the opportunity, get training, showcase products, take orders and monitor their business activity, even while offline. For additional information about Leapfactor and its game-changing apps, please visit
www.leapfactor.com
.
About Lulu Avenue:
Lulu Avenue™ is an innovative direct sales and e-commerce brand with Independent Style Advisors who earn an income by selling exclusive branded jewelry online and through boutique-style Trunk Shows. The world's only direct sales boutique Trunk Show Company featuring Moissanite –the world's most brilliant gem™, and the exclusive branded designer line, Lulu Avenue designs by JudeFrances, offers a selection of accessories for today's modern woman that appreciates classic and on-trend fashion. Through the power of direct sales, Lulu Avenue is bringing style, substance and empowerment to women across the country. Lulu Avenue is available through your local Style Advisor or online at
www.luluavenue.com
.
Contact
Leapfactor
Debbie Casey
305-785-4592
leapfactor.com

Contact