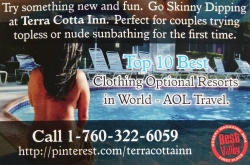 Palm Springs, CA, November 26, 2013 --(
PR.com
)-- The Desert Sun newspaper proudly proclaimed in a front page headline, "Best of the Valley, Winners are in!" in their Sunday November 24th Desert Magazine.
They reported on the best hotels, restaurants, attractions, day trips, landmarks, entertainment, and more.
For Best Boutique Hotel, the Desert Sun wrote:
"First Place: Terra Cotta Inn...The Terra Cotta Inn
http://sunnyfun.com
has been recognized as not only a top boutique hotel in Palm Springs, but one of the more premier nudist resorts in the western US..."
And guests all rave, The Terra Cotta Inn is considered the best because of it's friendly, fun, relaxing atmosphere. This is one of the many reasons why it is a favorite of vacationers and has one of the highest occupancy rates of all hotels in town.
Last December, the Los Angeles Times newspaper wrote a 2/3 page feature travel article recommending readers to stay at The Terra Cotta Inn. They called them the "common sense" place to stay in Palm springs in their story, "Relaxation Uncovered."
And being the Best does not mean overpriced. Quite the contrary. As Conde Naste Traveler Magazine reports, good value is the new luxury. And no one delivers value like TCI. AOL Travel reported, they are the Best Value nudist resort in the US.
Everyone loves Palm Springs. Averaging 350 days of sunshine and only 3 inches of rain a year, the Los Angeles times newspaper has given the city many "Readers Choice Best of Southern California" awards for being a favorite vacation destination.
Not a nudist? No problem. You'll feel very safe and comfortable at Terra Cotta Inn as they are called the most mainstream nudist resort in America and perfect for couples trying topless or nude sunbathing for the first time. Guests from around the world fly to Terra Cotta Inn for their first nude sunbathing experience, get hooked and join their ranks of a travel industry high 80% repeat guest rate.
So try something fun, romantic, unique and relaxing. Give Terra Cotta Inn a call at 1-800-786-6938 and say goodbye to your tan lines forever.