Zoomax Launches New 7-Inch Handheld Video Magnifier Snow 7 HD for the Visually Impaired
Labeled an easy-to-use magnifier, Snow 7 HD is designed for the visually impaired users to use instantly without time-consuming learning. With only 5 large intuitive buttons, the users living with sight loss can read the newspaper or view photos easily on the 7-inch widescreen at an ergonomic viewing angle.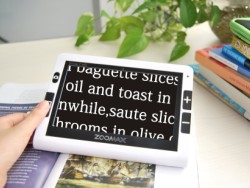 San Francisco, CA, November 27, 2013 --(
PR.com
)-- Since Zoomax introduced
4.3'' handheld video magnifier Snow
into the global market in 2010, Snow has been highly accepted and used by the end users with low vision caused by retinal eye diseases such as glaucoma, diabetic retinopathy, cataracts, and macular degeneration. After using it to read price tags, book's name on the high shelf, bottles, and menus anywhere anytime, their customers label Snow as an easy-to-use magnifier agreeably.
As strong requests of high definition and a larger screen came for daily reading from their customers, Zoomax has enhanced the ergonomic design of
Snow 7 HD a new 7-inch and high definition handheld video magnifier
with more features.
Inheriting all Snow's advantages, such as high contrast black and white appearance, few big intuitive buttons in compact design, friendly operating process and light weight, Snow 7 HD is well equipped with a high definition auto-focus camera and 7-inch widescreen at an ergonomic viewing angle which keep more parts of display text, photos and objects sharp and clear. Up to 5 meters distance viewing function and picture freezing functions are perfect for viewing products and price tags on the high shelf, bus stop and more.
Even with enhanced new features, Snow 7 HD is still an easy-to-use handheld video magnifier. With almost one intuitive button for reaching one function, Snow 7 HD makes daily newspaper reading, and object viewing easier for the visually impaired. After opening the reading stand abd powering on, then low vision consumers can read books instantly at continuous magnifications from 2.2X~ 16X or 12 high contrast color modes.
The perfect viewing angle of the reading stand is not only good for comfortable reading, but also ensures enough writing space under the camera. Snow 7 HD allows users to take notes or do homework more smoothly. No more blocked view or need to frequently move it while writing.
Weighing less than 480g and being designed in a small book size, Snow 7 HD is a good company while shopping or traveling. The specially tailored resilient bag protects Snow 7 HD from scratches and other damage.
Key Features of the Zoomax Snow 7 HD:
● High definition and auto-focus camera
● 7" TFT widescreen
● Continuous magnification of 2.2X~ 16X
● Favorite color modes and 12 high contrast color modes
● Real-time image freeze
● Distance viewing up to 5 meters
● Brightness adjustment
● Lightweight and portable at 16.93 ounces (480g with battery)
● Intelligently save the last user settings after power off
● Power saving after no operation in 3 minutes
● Special tailored Zoomax protective bag
● 6.5cm ~ 500cm viewing distance
● Dimensions: 19.5cm x 13.95cm x 2.5cm
● 4 hours continuous use rechargeable Li battery
● Foldable reading stand
● Support PAL/NTSC, connect to TV
According to the 2012 National Health Interview Survey, it reported that an estimated 21.5 million adult Americans have trouble seeing, even when wearing glasses or contact lenses, or that they are blind or unable to see at all. But with the help of right assistive technology like Snow 7 HD, their life quality could be improved. Zoomax will continue to design more powerful and easy-to-use video magnifiers for the people with low vision.
About Zoomax
Zoomax Technology Inc. a global and professional low vision equipment supplier designs,manufactures and sells the high quality and most cost-effective video magnifiers. Our product range covers handheld, portable and desktop video magnifiers. Till now, we have distributors in more than 40 countries. Snow 7 HD is now available through authorized Zoomax global dealers. For more information on products, availability and others, please visit our website zoomax.co
Contact information:
Tel: +86-21 55043290
Facebook: Facebook.com/pages/Zoomax-Technology-Inc/296358023779839
Twitter: twitter.com/ZoomaxMarketing
Contact
Zoomax Technology Inc.
Arrow Zou
86-21-50633955
www.zoomax.co
Skype: snow7hd

Contact
Multimedia
Snow 7 HD in a creative design not only offers the real-time crisp image on the ergonomically settled widescreen, but also it is a fully comprehensive handheld video magnifier in reading, writing and carrying.