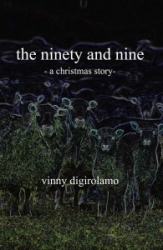 Salt Lake City, UT, December 05, 2013 --(
PR.com
)-- Celestine Publishing announced the release of its newest publication, "the ninety and nine: a Christmas story." It's a fictional account of what may have occurred within the walls of any prison Jesus Christ might have visited during his earthly sojourn.
Author, Vinny DiGirolamo, describes the horrible conditions typically found in Roman prisons of the early century; lacking hope for all who entered there. One evening Jesus strikes out on his own to visit a nearby prison. The events that occur there will either inspire the possibilities or provoke controversy based on one's own experience or prejudice toward the incarcerated.
When asked what inspired the story, DiGirolamo responded, "Jesus often taught us by example. Read Matthew 25, verses 34-40, and you'll see he mentions visiting prisons as one way to serve our fellowman, and in serving our fellowman, we ultimately serve God. I can't imagine that Christ avoided prisons; especially if they housed those guilty of the weightier crimes of his day."
The author and his wife have served and volunteered for several years at the Utah Correctional Facility in Draper, Utah, facilitating church programs for The Church of Jesus Christ of Latter-day Saints. When asked if their service at the prison influenced Jesus' dialog in this story, he responded, "Very much so."
DiGirolamo elaborated, "If everyone could experience the Spirit we've felt there; especially with those who are turning their hearts to Christ for forgiveness, healing, strength and new beginnings through his atonement, we'd all be much better Christians; being non-judgmental, more forgiving, compassionate and full of love for those who have gone astray for a season."
He continued, "I wrote this story to give hope to the families who have loved ones that are incarcerated for whatever reason. I wanted them to know that God does live and loves every one of his children. No one is forgotten. Christ's atonement is real and we have witnessed this firsthand time and time again as inmates turn to God, take advantage of the atonement and change their lives for the better."
The title, "the ninety and nine," is taken from a verse in the New Testament that describes the good shepherd's feelings for all his sheep, "How think ye? If a man have an hundred sheep, and one of them be gone astray, doth he not leave the ninety and nine, and goeth into the mountains, and seeketh that which is gone astray?" (Matthew 18:12). On this particular night, Jesus leaves his ninety and nine and seeks out the ones that have gone astray.
"The ninety and nine" is available online through Celestine Publishing (www.celestinepublishing.com) and Create Space (www.createspace.com/4534340). To read more about the author's initial experience at the Utah Correctional Facility, visit www.celestinepublishing.com/?p=925.
Celestine Publishing, established 2002, is the publisher of the "Principles with Promise" series; topical guides that catalog thousands of scriptural doctrines and principles for Latter-day Saints, Catholics and the rest of the Christian world. Celestine's website also contains links to other fiction and nonfiction titles and several blog articles on a variety of scriptural, principle-centered and real world topics.