Ultra Smile Dentistry is Warmly Welcomed in Downtown Miami
Ultra Smile is a Brand New, built from the ground up, total Dental Service Practice. Ultra Smile Specializes in General, Cosmetic, and Specialty Dentistry. Ultra Smile is a contemporary family practice with modern approaches to the dental experience.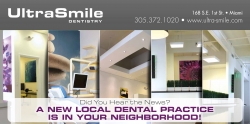 Miami, FL, December 05, 2013 --(
PR.com
)-- Ultra Smile is a brand new, built from the ground up, Complete Dentistry Service Practice. Ultra Smile Specializes in General, Cosmetic, and Specialty Dentistry in an untraditional dental setting. Ultra Smile is a spacious, contemporary family practice with a focus in modern approaches in professionally treating patients. Intuitive Technology has enabled Ultra Smile to virtually go paperless which helps the patient relationship become more organized and stress-free. Sedative Dentistry is another stress-free approach that leaves the patient with little or no pain during any dental procedure. Dr. Nadja A Horst, the main provider and founder of Ultra Smile has worked in the industry for over 10 years and has won many prestigious recognitions for Cosmetic work in the dental field. Dr. Horst understands the value in accommodating patients with "over the top" amenities that makes the patient feel at home and part of the family. Ultra Smile has incorporated built-in dental chair massagers and ceiling mounted televisions for Netflix browsing. The entire practice is built around the patient experience and their new perspective on stress-free Dentistry. Please visit Dr. Nadja Horst and the Team at www.ultra-smile.com to learn a little bit more about the holistic approach to patient overall health and wellness. The correlation between your mouth and your overall health is fascinating and imperative to the longevity and quality of your life.
Services include but are not limited to the following:
Orthodontics
Periodontics
Endodontics
Prosthedontics
Oral Surgery - Extractions/Grafting/Implants
Laser Whitening
General Dentistry
Cosmetic Dentistry -Veneers/Lumineers/Crowns/Bridges/Gingivectomy/Whitening
Many Other Adjunct Services - Botox/Juvederm
Contact
Ultra Smile Dentistry
Tyson Becher
305-372-1020
www.ultrasmilemiami.com

Contact
Multimedia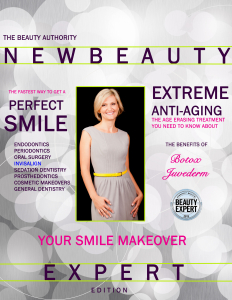 Dr. Nadja A Horst, featured on the cover, has been recognized as a Dental New Beauty Expert with honors in Best Practices, Leading Industry Innovations, and Stress-Free Dentistry.