100 Super Nannies Spread Spoonful of Sugar in Las Vegas on Strip at Screening of "Saving Mr Banks" with Actress Victoria Summer Who Plays Julie Andrews in Movie
100 Top Nannies gather in Las Vegas to view Walt Disney's "Saving Mr Banks" - the making of Mary Poppins with Actress who plays the iconic role of Julie Andrews - British talent Victoria Summer.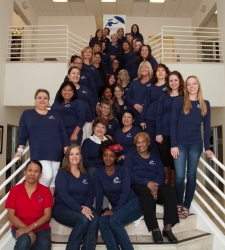 Las Vegas, NV, December 10, 2013 --(
PR.com
)-- The Premier Las Vegas Nanny Agency since 2000, Nannies & Housekeepers USA, will have 100 of their Top Nannies attending an advanced screening of Walt Disney's "Saving Mr. Banks" on Tuesday, December 10, 2013 at Town Square in Las Vegas.
These 100 Super Nannies will spread a spoonful of sugar while attending the screening with the sensational actress, Victoria Summer, who plays the role of the iconic Julie Andrews in the film opposite Tom Hanks and Emma Thompson. "Saving Mr. Banks" tells the true story about author P. L. Travers reflecting on her difficult childhood while meeting with filmmaker Walt Disney during production for the adaptation of her novel, Mary Poppins.
Julie Andrews is the ultimate nanny in the film "Mary Poppins" and the glorious governess in "The Sound of Music." When actress Victoria Summer arrived in Los Angeles in 2012 she had two suitcases with all her belongings inside, was determined to work hard, focus and pursue her dream of becoming an actress. Victoria worked as a nanny and a personal trainer while launching her career as an actress, singer and dancer.
Approved and Referred by Risk Management at the finest hotels, Nannies & Housekeepers is thankful to offer their boutique nanny agency service to hotels, concierge, companies and families. Families flock to Las Vegas for the holidays and Nannies & Housekeepers is prepared to serve the children with a standard of excellence. Nannies & Housekeepers employs meticulously screened nannies, teachers and tutors. Recently one of the agencies nannies was nominated for Disney Teacher of the Year. Super Nannies Spread A Spoonful of Sugar on the Las Vegas Strip.
Contact
Zachary Capp
702 451 0021 or 702 592 9225
zach@lasvegasnannies.com
Contact
Nannies & Housekeepers USA
Zachary Capp
702 451 0021
www.lasvegasnannies.com
Amy Hall 702 451 0021

Contact
Multimedia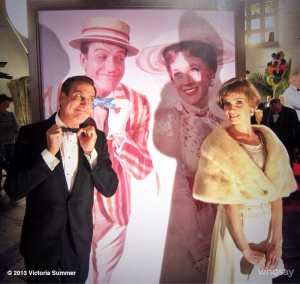 The making of Mary Poppins is intriguing to many people - especially nannies. Nannies & Housekeepers USA invited 100 of their Top nannies to a screening with the actress who plays Julie Andrews in Saving Mr Banks in Las Vegas on Tuesday, December 10 at 7 pm in Town Square.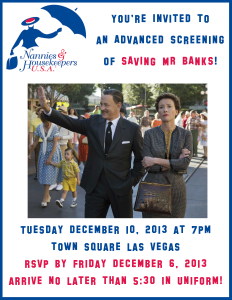 Super Nannies in Las Vegas spread spoonfuls of sugar on the strip at screening of Walt Disney's new movie with British Actress, Victoria Summer who plays Julie Andrews in Saving Mr Banks on Dec 10, 2013