A Multi Award-Winning Chapter Book Filled with Adventure and Heart
Don Winn's rollicking tale teaches children the power of brains over brawn in "The Knighting of Sir Kaye."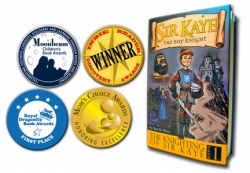 Oklahoma City, OK, December 17, 2013 --(
PR.com
)-- The first book in the Sir Kaye the Boy Knight™ series, "The Knighting of Sir Kaye" takes place in the troubled medieval land of Knox. The story centers on twelve-year-old Kaye Balfour, who wants nothing more than to be a famous knight like his father. But with his father away on court business, it seems as though Kaye will have to figure it out on his own until he rescues a boy named Reggie from some quicksand. Together they have plenty of carefree adventures until one day, an act of chivalry makes Kaye the queen's surprising choice for a new knight. Suddenly, his world is turned upside down and in an effort to live up to his new responsibilities, he finds himself in a face-off against the n'er-do-well knights of Knox.
Indie Reader Review calls this book "a lively and adventurous kids' book, full of gentle humor and warmth." The book presents the idea that chivalry — defined here as helping others — makes an ordinary person a hero. Winn especially loves this series because his main characters must rely on their own wits to overcome challenges. "I love the fact that this story promotes the idea that anyone can be a hero, because being a real-life hero is about helping others, and it doesn't take any special superpower to do that. It's open to everyone," says Mr. Winn.
"The Knighting of Sir Kaye" is the winner of the 2013 Indie Reader Discovery Award in the Kids category, the 2013 Moonbeam Children's Book Award Silver Medal for general pre-teen fiction, the Royal Dragonfly Book Award First Place for a children's chapter book, and a Mom's Choice Awards® Gold Recipient. "The Knighting of Sir Kaye" is highly recommended for independent readers in grades 3 and up. It is also a great book for reading aloud, filled with non-stop action that will keep listeners hanging on every word.
Kaye is a relatable boy, who deals with many of the same issues any twelve-year-old might face. "The Knighting of Sir Kaye" is well-paced with plenty of action and humor. Young readers will be captivated by this page-turner and anxious for the next installment in the series. Those who are fans of Don M. Winn's picture books can easily transition into chapter books with The Knighting of Sir Kaye. New readers—as well as parents—will surely become devotees of Winn's lively, warm, and funny style.
Readers praise Sir Kaye:
"Every parent should have Sir Kaye on its child's bookshelf. This is a must read for any boy (or girl) wanting to understand how a good person is created." - Jan Marquart, CEO and Founder of About the Author Network
Read all five-star Amazon reviews: http://www.amazon.com/The-Knighting-Sir-Kaye-adventure/product-reviews/1937615197
Author Don Winn
Don Winn is the award-winning author of children's novel "The Knighting of Sir Kaye." Additionally he has written ten picture books, including Superhero; Space Cop Zack, Protector of the Galaxy; The Higgledy-Piggledy Pigeon; Twitch the Squirrel and the Forbidden Bridge; and Shelby the Cat.
Don has been writing for over 15 years. After starting with poetry he moved on to writing children's picture books. He speaks and reads to children on school visits and at the request of the students he met on these trips, he decided to write about the adventures of Sir Kaye and Reggie. Don is a sterling example of tenacity and persistence (not unlike Sir Kaye). He has overcome many obstacles, including dyslexia, in order to achieve his dream of being an author. He has shared many of his personal experiences on his blog http://cardboardboxadventures.wordpress.com/ in the hope that it can be of help and inspiration to others.
"The Knighting of Sir Kaye" is available in softcover, hardcover, eBook and audiobook versions from Amazon, Barnes & Noble.com, Audible.com, the iBookstore and the iTunes Store. Sale, December Only: eBooks reduced to $2.99
Facebook: http://www.facebook.com/authordonwinn
Friends of Sir Kaye Facebook fan page: https://www.facebook.com/SirKaye?ref=hl
Twitter: https://twitter.com/#!/don_winn
Book Trailers on YouTube: http://www.youtube.com/user/cbaadmindon/videos
Contact
Jessica L. Tobin
512-745-1460
www.donwinn.com

Contact