City Entrepreneur Selected as the Founding Curator for the Chandigarh Hub of the World Economic Forum's Global Shapers Community
Mr Munish Jauhar, CEO and Founder of GrayCell Technologies Exports, one of the leading Application development companies in North India has been selected as the Founding Curator for the Chandigarh Hub of the World Economic Forum's Global Shapers Community.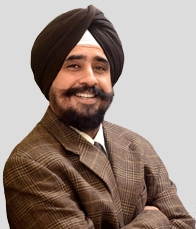 Chandigarh, India, December 24, 2013 --(
PR.com
)-- Munish Jauhar, CEO of city based GrayCell Technologies Exports has been selected as the Founding Curator for the Chandigarh Hub in India of the World Economic Forum's prestigious Global Shapers Community (http://www.globalshapers.org/).
The Global Shapers Community is a network of hubs led by young people who are unique in their potential, their accomplishments and their drive to make a contribution to their respective local communities. The World Economic Forum is the world's foremost multistakeholder community, engaging leaders from business (members) and non-business (constituents).
"It's a community that is led by young leaders between ages 20 and 30 who want to develop their leadership potential towards serving society. Hubs undertake local projects to improve their communities," says Jauhar, for whom this is a huge honour and recognition as he is the only Founding Curator who does not fall in the 20 to 30 age bracket. In his late thirties, an exception was made by the Global Shapers Community for Jauhar after recognizing his community work, achievements and leadership skills.
Shapers are highly motivated individuals who have a great potential for future leadership roles in society. They are selected on the basis of their achievements, leadership potential, and commitment to make a difference. Through the Global Shapers Community, Shapers are provided with opportunities to connect with the worldwide network of Global Shapers, to network with other World Economic Forum communities, and to represent the voice of youth at World Economic Forum events.
The Global Shapers Community consists of 277 hubs spread all over the world with the Global Hub located at the head office in Geneva, Switzerland. The community undertakes activities that generate a positive influence and increases each member's ability to improve their community and provides opportunities for Shapers (members) to have a local and global impact. The community serves as a medium of exchange on both local, regional, national and international levels and is facilitator to harness the energy and passion of the youth for a better world.
Jauhar has been very active in the IT start-up scene on both local and national levels and is a very keen contributor to various social initiatives undertaken under the umbrella of the GrayCell CSR team.
He is a passionate promoter of entrepreneurship and has worked with students across the region to nurture and mentor young talent and provide a platform for new business ideas. He has been deeply involved in guiding nascent start-ups and is an ardent believer in promoting young talent and has even set up GrayCell Ventures which provide mentorship and guidance to budding entrepreneurs.
Jauhar has also set up a dedicated CSR team at GrayCell, to act as a Focal point for various Social Activities in the local community. The GCT CSR Team has been organizing blood donation camps, tree plantation drives, donation collections and has been working with the local chapter of the Young Indians (Yi), which is a part of CII (the premier trade body) to promote computer education at the Learning Centre setup in Kaimbvala, a village near Chandigarh. GrayCell has been actively involved in sponsoring the centre and the GCT Team has been holding special classes on weekends for the Centre students.
"I strive to work with like-minded individuals to foster community development and bring Chandigarh closer to the Global hubs," says Jauhar who feels it is a great platform and is very enthusiastic about being part of the "local global" community.
Munish Jauhar had started GrayCell in 2004 after working with a number of MNCs including Quark Media House and the company has grown to become one of the premier Web and Mobile Solutions provider in North India with a large Global clientele. He has been a prominent face of the IT community in the Tricity region. A father of two, he is a keen art collector and has a passion for the birding and running.
Munish Jauhar and GrayCell's work has been duly recognized and they have won a number of awards including the prestigious Asia Pacific Entrepreneurship Award as the Most Promising Entrepreneur. His and the GrayCell team's efforts in the field of Social responsibility has been acknowledged by the Local Government and GrayCell has won the Award for Excellence for "Socially Active Unit" thrice in 2010, 2011 and 2013. GrayCell also won the "CSR Excellence Awards - We Care" by the Amity Global Business School. GrayCell had been awarded the Knowledge Resource Development & Welfare Group "IT Innovation and Excellence Award 2012".
For More Information, please contact Munish Jauhar: 09815111117
Contact
GrayCell Technologies Exports
Amit Nugyal
91-9478025265
graycelltech.com
Mr Munish Jauhar
GrayCell Technologies Exports
SCO 15, IIIrd Floor
Sector 17-E
Chandigarh - India - 160017
email: munish@greycelltech.com

Contact