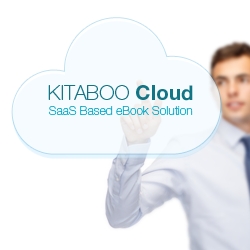 Mumbai, India, January 10, 2014 --(
PR.com
)--
Hurix Systems
is set to launch their SaaS based end-to-end eBook solution: KITABOO Cloud at DBW Conference and EXPO 2014 in New York on January 14th. The end-to-end cloud solution would allow publishers, educational institutions, corporates and businesses to quickly convert and enrich their content online and get it delivered efficiently to their target users.
KITABOO Cloud
allows conversion and enrichment of content and publishing to multiple-formats (online, iOS, Android and ePub3) and provides an efficient and secure way of content distribution to customers and end users. Readers will find their multi-platform Reader apps a simple yet compelling vehicle to consume the content. Usage analytics and social collaboration features further enhance the value of the user networks, and provides valuable real-time analysis about the content usage. KITABOO Cloud comes in different editions that can be selected by customers based on their business needs.
"With KITABOO Cloud we have introduced a complete end-to-end eBook solution where the conversion, distribution and delivery takes place entirely on the cloud, so anyone with an internet connection and a valid account can access KITABOO to meet their digital conversion and distribution needs. We look forward to showcasing this at the DBW 2014 in New York city," said Sri Subramanian, EVP Sales and Product Solutions, Hurix Systems.
Hurix will also be hosting a brief discussion on KITABOO Cloud and exclusively sharing insights about its features and editions at the DBW Conference and Expo on the 13th of January 2014. Join them to explore more.
About KITABOO
KITABOO Cloud is a SaaS based end-to-end eBook solution. Whether you are a publisher, educational institution, corporation or a business trying to reach your customers, KITABOO Cloud offers a robust and scalable solution that allows you to quickly convert and enrich your content online and get it delivered efficiently to your target users on multi-platform eBook Readers.
KITABOO Cloud comes in several editions; Basic, Professional, Enterprise and Custom. You can choose the edition that best meets your business needs. For more information, visit us www.kitaboo.com or contact us at kitaboo@hurix.com.