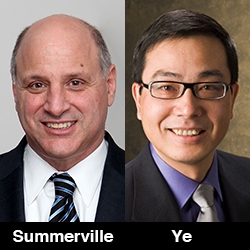 New York, NY, January 10, 2014 --(
PR.com
)-- Weidlinger Associates, Inc., has announced that, effective January 1, 2014, Samuel Summerville, principal, will lead the firm's Transportation Group. Former group head, Guang-Nan Fanjiang, will continue to work as a senior principal within the group. Also announced today, Associate Principal Qi Ye was promoted to principal.
"Guang-Nan Fanjiang's leadership has been vital to the growth and success of the Transportation Group and to Weidlinger as a whole; we will continue to build on the foundation of his contributions," said firm President and CEO Raymond P. Daddazio. "Sam has wide-ranging experience spanning every conceivable type of bridge and procurement approach. His promotion will permit Weidlinger to benefit further from his exceptional talent and leadership."
Summerville has more than 31 years of experience in the transportation field, and has played a critical role in rehabilitating many of New York's most important crossings. His work includes inspection, design, and rehabilitation of bridges, major structures, urban interchanges, and highways nationwide. He has served as project manager for the replacement of the lower roadway, north upper roadway, and suspenders on the Manhattan Bridge; replacement of the decks and dehumidification of the anchorages in the suspended spans of the Throgs Neck Bridge; and rehabilitation of the lower-level approaches and Lily Pond Avenue Bridge at the Verrazano-Narrows Bridge. His work on the Manhattan Bridge spans a period of 20 years and includes four major rehabilitation contracts.
Summerville's experience in bridge design includes having served as principal in charge for the award-winning Metrorrey Line 2 in Monterrey, Mexico, the design of a 6.4-kilometer (four-mile) elevated precast segmental viaduct carrying twin tracks of Monterrey's light-rail system. He has also managed seismic evaluation and retrofit projects on the Manhattan and Verrazano-Narrows Bridges and is currently principal in charge for a seismic and wind study and retrofit for the Robert F. Kennedy (RFK) Bridge. This project encompasses seismic evaluation and conceptual retrofit design of the RFK Bridge complex, which comprises two dozen bridge structures.
Summerville joined Weidlinger in 1998. He holds BE and ME degrees from Manhattan College in Riverdale, New York.
Qi Ye is a principal with more than 20 years' experience in bridge design and analysis. He has expertise in steel and concrete bridge design, fatigue evaluation for steel structures, seismic analysis and design, and vibration study of bridges. Ye has managed a large number of design projects and has written technical papers for presentation at bridge conferences around the world.
"Qi's extraordinary skill as an engineer, and his commitment to excellence, have made him an indispensable member of Weidlinger's Transportation Group, as both an engineer and a colleague," said Transportation Principal Guang-Nan Fanjiang. "He played a critical role in winning many of our recent design projects, specifically seismic investigation of the RFK Bridge, deck replacement of the Throgs Neck Bridge, West Thames Pedestrian Bridge, and structural repairs and cable evaluation for the Bronx-Whitestone Bridge."
Ye served as project manager for the award-winning design of the jointless, floating replacement deck for the Walt Whitman Bridge, which spans the Delaware River between Philadelphia, Pennsylvania, and Gloucester, New Jersey. This innovative deck represents an unprecedented design concept, employing elastomeric bearings to enable it to move independently (float) from the floor trusses, reducing vibrations and eliminating the transverse relief joints that had made the previous deck susceptible to leakage.
Ye joined Weidlinger in 1999. He received an MSCE from the State University of New York in Buffalo and holds a BS in bridge engineering from Tongii University in Shanghai, China.
Weidlinger Associates, Inc., is a structural engineering firm that designs and rehabilitates buildings, bridges, and infrastructure and provides special services in applied science, forensics, and physical security. The firm, which employees about 300 full-time staff, celebrated its 60th year in 2009. It is recognized worldwide for its innovative and practical design solutions and for its long-term commitment to advancing the state of the art in engineering. Headquartered in New York City, the firm has branch offices in the United States and the United Kingdom. For more information, please see www.wai.com.