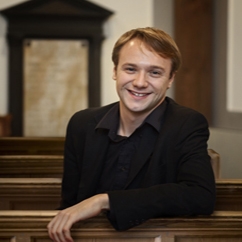 Falmouth, MA, January 15, 2014 --(
PR.com
)-- The Board of Trustees of the Woods Hole Cantata Consort is pleased to announce the appointment of Joseph Fort as the new director of music for its 41st season in 2014.
Mr. Fort's musical endeavors bridge the worlds of performance and scholarship; he combines his performance activities with life as a graduate student, pursuing a PhD in Music Theory at Harvard. In addition to his new role with the Woods Hole Cantata Consort, he is Artistic Director of the Sine Nomine Ensemble, Fall River; Resident Conductor of the Harvard-Radcliffe Collegium Musicum; and Director of Music at Grace Episcopal Church, Newton, MA.
Mr. Fort is a teaching fellow in Harvard's Music Department, for which he has won multiple awards, and a resident tutor in Eliot House. As an organist his performances have been broadcast on UK and US radio, and he is in demand as an accompanist. The current season sees him conducting of various large-scale choral works, recording music of the Pilgrims, and directing two world-premiere performances. As an organist, he will give a solo recital at the Church of the Advent in Boston.
Following a year of study at the Royal Academy of Music, London, Mr. Fort read Music at the University of Cambridge, as Organ Scholar of Emmanuel College. In this capacity he managed and directed the college choir in the twice-weekly chapel services, and on tours to Ireland, Italy, Mexico (with two televised performances) and the USA. He also assisted Stephen Cleobury in the direction and rehearsing of the Cambridge University Musical Society Chorus. Committed to new music, he commissioned and conducted the first performances of Nimrod Borenstein's If I forget thee, O Jerusalem (with Emmanuel College Chapel Choir), and Tom Kimber's The Moon (with CUMS Chorus).
In addition to performance, Mr. Fort is deeply committed to scholarship. He was awarded Cambridge's John Stewart of Rannoch Scholarship in Sacred Music in recognition of his study of Haydn's late Masses. He spent a year as Herchel Smith Scholar at Harvard, and following this was accepted onto the University's PhD program in Music Theory. His dissertation research focuses on dance-music relationships in Joseph Haydn's minuets.
The Woods Hole Cantata Consort is a non-auditioned community chorus, which performs one classical concert each August on Cape Cod. This organization provides a continuing choral experience for 30 to 40 singers from the Upper Cape area during the summer months when most year-round choruses and chorales are inactive.