Crysobel Jewelry Collection Wins Celebrity Fans During Emmy Week in Los Angeles
The Crysobel Jewelry Collection displays their earrings and bangle bracelets at the 2007 pre-Emmy Suite at the Sofitel Hotel in Los Angeles, winning the admiration of Emmy nominated television stars.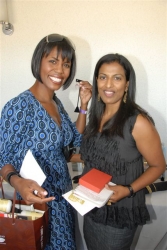 San Francisco, CA, September 26, 2007 --(
PR.com
)-- The Crysobel Handcrafted Designer Jewelry Collection (www.crysobel.com) made an appearance at The Pre-Emmy Browse and Borrow Suite in Los Angeles at the Sofitel Hotel, and won rave reviews from celebrities who attended the event. "Curb Your Enthusiasm's" Cheryl Hines, "Celebrity Apprentice's" Omarosa Manigault, "Heroes" star Dania Ramirez and writer of the Emmy nominated series "The Starter Wife" (and wife of mega film producer Brian Grazer) Gigi Levangie fawned over the unique handcrafted 18K gold and precious gemstone jewelry collection. "My Name is Earl" star and Emmy winner Jaime Pressly received Crysobel's 18K yellow gold filigree and red garnet teardrop earrings as part of her congratulatory Emmy Gift Bag , presented to her by the editors of US Weekly Magazine.
In addition to a television segment with Fox 5 News in Los Angeles in which Crysobel's white sapphire earrings were dubbed "the new diamond," US Weekly Magazine will feature the earrings that were given to Jaime Pressly in their upcoming issue, on newsstands Wednesday, September 26, 2007.
Dania Ramirez, this season's new cast member of the hit show "Heroes" absolutely loved Crysobel's earring collection and is excited to borrow a pair for this year's upcoming awards season and round of industry parties. Omarosa Manigault is interested in wearing Crysobel Jewelry on "Celebrity Apprentice" and Cheryl Hines took a liking to Crysobel's signature dome chandelier earrings. "Starter Wife" writer Gigi Levangie certainly knows what Hollywood women want, falling head over Manolo heels for the entire Crysobel Jewelry Collection.
About Crysobel Jewelry:
Crysobel is a fine jewelry collection inspired by the artistry of the designer's eastern roots, blended with the sophisticated elegance of her current western urban lifestyle. Earrings are crafted in 18K white and yellow gold, highlighting precious and semi-precious gemstones imported from her native, Sri Lanka. Crysobel earrings display such rare gems as black diamonds, red coral, cultured pearls, hessonite garnets, citrines, rubies and the world's finest Sri Lankan orange, white, pink and blue sapphires. For more information visit www.crysobel.com.
Crysobel Gives Back:
Crysobel is donating 15% of every sale to the Saiva Mangaiyar Kalagam from now through the end of 2007. Saiva Mangaiyar Kalagam is a charitable organization based in Sri Lanka to help support the post-tsunami rebuild. The organization was founded in the 1930s by designer Gaitri Chandra Raj's grandmother, Sornacanthy Nallainathan with the mission of promoting culture and scholarship among Sri Lankan Tamil girls. Over time, the Saiva Mangaiyar Kalagam has grown and branched out into many other areas of social services.
After the Asian Tsunami in 2004, the organization was instrumental in providing tools and resources to rehabilitate the affected communities and also spearhead the construction of a local community center. While the Saiva Mangaiyar Kalagam gets donations from individuals and European and Asian Embassies, it is still in desperate need of funding to continue its post-tsunami efforts.
###
Contact
Crysobel
Allison Kugel
516-942-0264
www.crysobel.com
www.allisondawnpr.com

Contact
Multimedia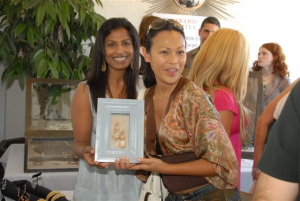 Three tier red garnet and red garnet bead chandelier earrings set in 18K brushed yellow gold