National Institute for Fitness and Sport (NIFS) Mini Marathon Training Program: Having Fun Going Thirteen Point One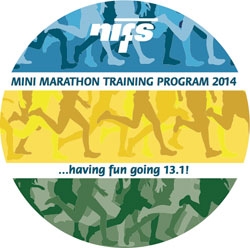 Indianapolis, IN, January 30, 2014 --(
PR.com
)-- Training for the OneAmerica 500 Festival Mini Marathon doesn't have to be dull! Join NIFS' Mini Marathon Training Program so that you can be one of the 35,000 participants who will cross the finish line on May 3, 2014. Training begins at two convenient locations: the National Institute for Fitness and Sport (NIFS) in downtown Indianapolis and Cherry Tree Elementary School in Carmel on January 22 at 6 pm.
The NIFS' Mini Marathon Training Program prepares participants for the Mini Marathon scheduled for Saturday, May 3, as well as the Geist Half Marathon on Saturday, May 17 and the Carmel Marathon on April 12. Whether you're a beginner or an advanced level runner or walker, the NIFS' Mini Marathon Training Program offers a safe and fun way to prepare your body for these races. This interactive training program is developed by exercise physiologists, fitness specialists, registered dietitians and accomplished athletes.
Past participant Denise, said this about her training experience, "I look forward to participating every year. The training program is even more fun than the actual race!"
The 14-week program includes weekly group walks/runs, educational training clinic for walkers and runners, a program shirt, a 50% discount on the Absolute Beginner's Guide to Half-Marathon Training book, cross training at NIFS, weekly snacks and refreshments, and a celebration pasta dinner.
New for 2014, NIFS is offering a Fall Training Program for both half and full marathons starting in July at our downtown facility. This training prepares participants for the Indianapolis Marathon, October 18, and the Monumental Marathon. Half and full marathon training sessions will be Wednesday evenings at 6pm. Sessions will switch to Saturday mornings when runs exceed 12 miles. Sign up for both Mini Marathon and fall training now and receive the lowest prices offered.
To register, or for more information regarding the NIFS Mini Marathon Training Program, call NIFS at (317) 274-3432, ext. 226 or visit www.nifs.org. NIFS is a non-profit organization committed to enhancing human health, physical fitness and athletic performance through research, education and service. NIFS has fitness solutions for everyone (and a fitness center located on the IUPUI campus, downtown)!
Contact
National Institute for Fitness and Sport
Stephanie Kaiser
(317) 274-3432, ext. 226
www.nifs.org
250 University Blvd
Indianapolis, IN 46202

Contact