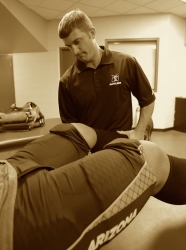 Phoenix, AZ, January 30, 2014 --(
PR.com
)-- As Arizona high school basketball heats up and training for the upcoming baseball season begins, Dr. Shelden Martin, an orthopedic surgeon with one of the Valley's leading orthopedic practices, OrthoArizona - Arizona Orthopaedic Associates, has announced Saturday clinic hours for February 15 and March 8 in an effort to help Valley athletes who experience sports injuries on the weekend.
According to the U.S Centers for Disease Control (CDC), an estimated 2 million injuries occur among high school athletes every year. In order to help people avoid high emergency room bills on the weekend, Dr. Martin, who is fellowship trained in sports medicine and shoulder/elbow surgery, will perform physician duties on those who find themselves in an orthopedic emergency on specific Saturdays.
The Phoenix orthopedic surgeon's office is conveniently located on the southeast corner of Loop 101 and Warner Road at 2905 W. Warner Road, Suite 23 in Chandler, AZ 85224. To schedule an appointment, please call (480) 685-2850.
"The most common cause of injury-related ER visits by children are due to sports activities," Dr. Martin said. "With football season slowing down, basketball heating up and baseball season around the corner, sports-related injuries are more likely to occur, especially during the weekends when athletes attend tournaments with multiple games played back-to-back. That's why I have added Saturday clinic hours."
Dr. Martin said weekend warriors, or people who aren't very active during the week but become more dangerously active during the weekend, are another group he sees a high rate of injury in due to lack of proper training before competing in sporting events or other high-impact activities.
Saturday clinics are designed to provide a spectrum of cutting-edge services generally not available on the weekend. Dr. Martin specializes in complex arthroscopic surgery, including ligament reconstruction, cartilage transplants, shoulder and elbow joint replacements, and reverse shoulder replacements.
Currently, Dr. Martin is the head team physician for the world champion Arizona Rattlers and team physician for Desert Vista High School. Previously, he served as part of the team medical staffs for the Carolina Panthers, Charlotte Knights, Joe Gibbs Racing Team and the University of North Carolina.
A board-certified orthopedic surgeon who received his bachelor's degree in chemistry and biology from LaSalle University in Philadelphia, Dr. Martin performed research at the University of Pennsylvania that led to the discovery of the gene responsible for a rare genetic bone disease.
Dr. Martin graduated from medical school at Georgetown University and completed his residency training at Loyola University Medical Center in Chicago. He then completed a shoulder/elbow and sports medicine fellowship at OrthoCarolina in Charlotte, North Carolina.
For more information on OrthoArizona - Arizona Orthopaedic Associates, please call (602) 631-3161 or visit www.aoa.md.
Find out more about Arizona Orthopaedic Associates on Facebook at www.facebook.com/aoaatgateway and Twitter at www.twitter.com/aoaatgateway.
Learn more about Dr. Martin on his website www.orthopedicarizona.com and follow him on Facebook at www.facebook.com/DrSheldenMartin and Twitter at www.twitter.com/DrSheldenMartin.
About OrthoArizona - Arizona Orthopaedic Associates
OrthoArizona - Arizona Orthopaedic Associates strives to improve the quality of life of its patients and their families through outstanding orthopedic care. OrthoArizona - Arizona Orthopaedic Associates is committed to excellence by pledging to provide the highest quality of orthopedic care possible. Along with the treatment of immediate or chronic problems, top-rated and board-certified orthopedic surgeons strive to integrate the doctrine of prevention in all treatment plans as a way to alleviate possible future difficulties.