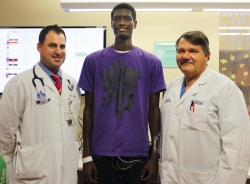 Sarasota, FL, February 01, 2014 --(
PR.com
)-- Growing up in West Africa, Ibrahima Diallo shared a goal common among many Senegalese boys – to become strong, tall and fast enough to be noticed by an NBA scout and hopefully earn a basketball scholarship in the United States.
He grew to a towering 6-foot 9-inches, and until last week, nothing seemed capable of slowing the 18-year-old athlete down. Despite hunger, poverty and sparse conditions that challenge his homeland, the teen's speed, strength and skills on the court propelled him across the Atlantic last fall with a scholarship to a sports academy in Sarasota – and closer to his lifelong dream.
Until his heart stopped suddenly during a practice game at the Impact Basketball Academy on McIntosh Road. On Jan. 7, Diallo collapsed while scrimmaging with his teammates. The players and his coach rallied to his rescue, performing CPR until paramedics arrived.
Fortune was on his side on many fronts that day – most student athletes who suffer sudden cardiac arrest die before ever reaching a hospital. The CPR efforts of his team and emergency care by paramedics helped keep him alive until he was stabilized at a local hospital.
Tests by his consulting cardiologist Mark Ramos, MD, revealed a very rare heart anomaly – one cardiologists rarely see in their lifetime, and one so deadly few surgeons in the world have the opportunity to treat.
Dr. Ramos transferred him to Sarasota Memorial Hospital, which recruited one of those rare surgeons – its Chief of Cardiovascular Surgery Jeffrey Sell, MD – just last year.
"It really was an amazing journey that brought him here," Dr. Ramos said. "The fact that he started on the other side of the Atlantic and ended up in Sarasota with one of the few specialists who could treat him – it very likely saved his life."
Diallo suffered from a rare congenital heart defect called Anomalous Left Coronary Artery from the Pulmonary Artery (ALCAPA), a condition in which the left coronary artery (which carries blood to the heart muscle) abnormally connects to the pulmonary artery rather than the aorta during fetal development. The anomaly affects one in 300,000 newborns, and it is extremely unusual for babies to survive beyond a few months unless the defect is detected and repaired early.
Most pediatric surgeons who repair congenital heart defects may encounter one case in their lifetime, said Dr. Sell. It is even more unusual for someone to survive ALCAPA into adulthood. "Most adult patients die before they can be treated from sudden cardiac arrest, or multiple heart attacks at once," he said.
Dr. Sell, who has repaired more than a dozen cases of ALCAPA in children and several in adults, is one of the most experienced surgeons in the world treating the rare and complex heart defect. Through its affiliation with Sarasota Memorial, the Columbia University Medical School HeartSource team helped handpick Dr. Sell from hundreds of applicants across the world to lead Sarasota Memorial's cardiac surgery program last year.
Dr. Sell performed a complex reconstructive open-heart surgery on Diallo on Jan. 21. The procedure, called a Takeuchi repair, involved creating a tunnel inside the pulmonary artery and redirecting oxygenated blood into the abnormally placed coronary artery from the aorta.
Because it is so rare, no long-term studies of adults with corrected ALCAPA are available, but the prognosis is generally good in children, and Drs. Sell and Ramos expect the same for Diallo.
"He's young and strong … he'll need some routine follow-up tests, but after a short period of recuperation, we think it's not only possible, but probable he'll be back on the court," Dr. Sell said.
Diallo, who has worked all of his life for this opportunity, is determined not to stay sidelined for long. While recuperating with his aunt in Georgia, he plans to focus intensely on his academic studies.
At Impact Basketball, Diallo was enrolled in a disciplined curriculum of both academics and athletics and hopeful that his training would lead to a college scholarship – an opportunity he said was not possible back home.
"I want to become a professional basketball player, but not just that. I also want to go to college," Diallo said. "I want to learn about banking and finance and bring that knowledge back home one day."
While many young Senegalese have aspirations to play in the NBA, they realize that a very small percentage actually make it to the NBA and so remain equally focused on their education, said Tom Carollo, coach and part owner of Impact Basketball's Florida franchise.
Carollo said they will stay in touch with Diallo. Ultimately, whether he returns and resumes training in Sarasota will depend on his condition and decisions he makes with his family.
"Our focus is to give kids like Diallo a chance to go to college, get an education and play basketball at whatever level we can help them achieve," Carollo said. "We're not exactly sure what will happen next with him. Right now, we are focused on helping him get back to his family so he continues to get the follow-up care that he needs."