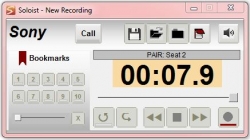 North Branford, CT, February 05, 2014 --(
PR.com
)-- SANS Inc., the developer and exclusive licensor of Sony language learning software solutions, has just released Version 14.0 of the
Sony Virtuoso™ and Sony Soloist® digital language lab software
. A key element of this software update is compatibility with the Microsoft® Windows® 8.1 Operating System (OS).
The XAudio2 API for Windows 8.1 will benefit the audio processing that takes place within the Sony language lab software to increase the already robust transfer of audio data which provides the language learner with a purer sound, capturing the nuances of the target language.
According to Ron Remschel, SANS President, "SANS continues its commitment to aligning the Sony Virtuoso and Soloist software suite with the latest technology advances, so that our customers can continue to use our language lab technology as they change and update their OS infrastructure. Unlike so many other language lab technologies that are in the marketplace, ours gives schools a true migration path, ensuring a good return on their technology investment."
Several other key features have been added to the Sony digital language lab suite as well. A new Oral Test Mode is now built-in to very easily facilitate standardized testing that includes a speaking component like that in the Advanced Placement (AP®) world languages exams. The Sony Soloist digital comparative recorder now includes a new "E" enhanced interface design, giving it a cleaner aesthetic and making it more user-friendly.
SANS is a leading instructional technology provider for language learning programs – FL, ESL, and ASL. Technologies include the Sony Virtuoso™ and Soloist® digital language lab software suite and SANSSpace™ virtual language learning platform. More information at www.sansinc.com or email moreinfo@sansinc.com.
Virtuoso and Soloist are trademarks of Sony Electronics Inc. Sony Virtuoso and Soloist software incorporate SANS and Sony Technology. SANSSpace is a trademark of SANS Inc. The names of other companies, product, and services are the property of their respective owners.