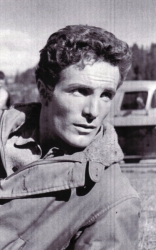 Palm Springs, CA, February 26, 2014 --(
PR.com
)-- Steve Rowland of Palm Springs, California has been included in the Strathmore's Who's Who Worldwide Edition for his outstanding contributions and achievements in the entertainment field.
About Steve Rowland
Mr. Rowland is Hollywood royalty—the son of director Roy Rowland and the nephew of studio mogul Louis B. Mayer. He is an Actor, Singer, Record Producer and Writer of over 50 years experience starring in over 35 television shows and 9 films including ("Battle of the Bulge"), ("Gun Glory") and TV shows ("The Rifleman"), ("Wanted Dead or Alive") and ("The Legend of Wyatt Earp"). In the 1950's, he wrote gossip columns for 8 motion picture fan magazines, ("Movie Stars Parade") etc. He is the CEO of Family Dogg Productions, an international music and management company. In London, he produced 60's rock icons such as Dave Dee Dozy Beaky Mick and Titch, Peter Frampton and the Herd, The Pretty Things and P.J. Proby. He was the lead singer in his own group The Family Dogg and had many international hits including "Way of Life." As A&R Director for Hansa/Areola, he discovered Mel & Kim and handled The Cure, The Thompson Twins, Sarah Brightman and Japan. Rowland received the ASCAP Award for producing "Drinking Wine Spo-Dee Oh-Dee" for Jerry Lee Lewis. He has produced over 50 chart hits including the million selling "I Lost My Heart To A Starship Trooper" for Sarah Brightman. His book "Hollywood Heat-Untold Stories" was published to great acclaim in 2008. Having produced "Coming From Reality" for Rodriguez in 1971, Mr. Rowland appeared in the 2013 Academy Award winning documentary "Searching for Sugar Man." His musical productions made up part of the film's soundtrack. In his spare time Mr. Rowland enjoys motocross, Kart racing, skiing, films and Country Music. He has a great love of animals, especially dogs. For further information contact
www.steverowland-action.com
or email him at steve@familydogg.com.
About Strathmore's Who's Who Worldwide
Strathmore's Who's Who Worldwide highlights the professional lives of individuals from every significant field or industry including business, medicine, law, education, art, government and entertainment. Strathmore's Who's Who Worldwide is both an online and hard cover publication where we provide our members' current and pertinent business information.