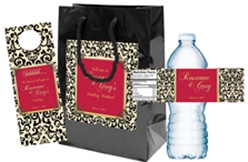 Longboat Key, FL, February 18, 2014 --(
PR.com
)-- Very often the hotel welcome bag is your guest's initial touchstone to you and your event. The right bag demonstrates your appreciation to these travel weary lodgers. Here's tips to making the best first impression:
Whose heart is not lightened by receiving a gloriously swathed package? Who doesn't love to riffle through the tissue to discover the goodies inside? It's easy to create a standout bag that will catch your guest's eye as soon as they open the hotel room door.
Making this a great experience for your guests can be easy and cost-effective. Don't over spend on the container. Even a simple Kraft bag can make a special welcome gift once stuffed and decorated. Save the loot to stuff the bag, don't spend it on the bag. Choose a bag that incorporates your other event colors and styles. This creates a theme that your guests will experience throughout your celebration.
A big mistake often made is using too big of a bag. Receiving a well stuffed over-flowing bag, regardless of the bag size is great fun. A bag with too much space will always appear sparse and lack-luster. When counting bags remember that it's one bag per room- not per person. That being said, it's nice to put two water bottles in a single welcome bag.
Adding a puff of tissue to the top of a bag is an inexpensive way to really brighten it up. It's really easy to achieve that perfect puff. Lay the tissue flat and pick a single piece by the center of the piece. If you lift it from the center the tissue will puff perfectly when you put it into the bag.
To score really big with all your guests don't forget the kids. Check out oriental.com to find everything you need to build the ultimate kids goodie bag. Activity books and simple crafts make for grateful parents, busied children, and happier guests.