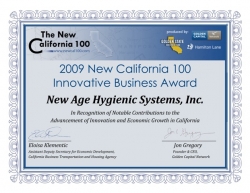 Redondo Beach, CA, February 18, 2014 --(
PR.com
)-- "Today's water shortage crisis in 3 southwestern states, compounded by a severe mega drought, was entirely avoidable. In 2007, New Age Hygienic Systems (NAHS) developed a toilet that, if implemented, would have saved California alone about 1/3 of its clean water reserves. National water reservoirs fill up and drain on a multi-year basis, so if they had been able to save a third of their reservoirs' water annually since 2007, by now California, Nevada and New Mexico would still have plenty of water remaining to serve all their municipal and agricultural needs. Current federal and local commotion over this shortage could have been avoided," says Dan Andreiu, the Founder and the President of New Age Hygienic Systems, Inc.
"Aside from being granted an award from California's officials, New Age Hygienic Systems, Inc. has not met with much support. Responding to the current water shortage emergency, our group has resorted to appealing for public support via crowd-funding sites such as Kickstarter and, see campaign on
IndieGoGo
, to raise capital for product manufacture and distribution. Our design is a super low-flow toilet produces an extremely clean, efficient flush, using about a quart of water.
"Our invention is, in fact, the first new toilet design to be introduced in over 200 years, using nanotechnology and taking advantage of the molecular property of water in order to flush solids down drains. We hope that future widespread implementation of the AutoToilet will prevent any more undeniable water crises," says Dan Andreiu, Founder and Preside New Age Hygienic Systems, Inc.