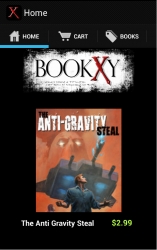 Los Angeles, CA, February 18, 2014 --(
PR.com
)-- Publishing Company Stark Raving Group's online shop Bookxy.com sponsored a unique daylong panel which brought together 19 of the world's most acclaimed murder, mystery, crime, pulp and noir authors. The daylong author's panel was held at the Last Bookstore in downtown Los Angeles. Videos of the author panel are available on Bookxy.com on their "About Us" page, as well as on the BookxyYouTube.com channel.
Author Richard Brewer served as the moderator of the panel which included Dan Abramowitz, Eric Beetner, Paul Bishop, Craig Faustus Buck, Stephen Buehler, Tony Chavira, Sarah Chen, Darrell James, Andrew Jetarksi, Harley Jane Kozak, Don McLeod, Gary Phillips, Travis Richardson, Stephen Jay Schwartz, John Shannon, John Shipphird, Laurie Stevens, Nathan Walpow and Doselle Young. All authors who participated in the panel will be releasing their work (including previously unpublished novellas) through Stark Raving Group's Bookxy site over the coming months.
"These videos are a treasure trove for mystery lovers. Where else can you see this many incredibly talented authors, sitting down together to talk about writing and publishing? The videos will delight crime and pulp fiction fans, as they get a glimpse into the personalities of their favorite authors," says Jeffrey Weber, Grammy winning founder of Stark Raving Group.
The two videos featuring the panelists, span more than 20 minutes each. Shorter, individual interviews with each author are also available on Bookxy's website and the company's YouTube Channel.
Since launching in December 2013, Stark Raving Group has released 2 to 3 novellas per month, including best-selling author Stephen Hunter's Collection Stephen Longacre's "Greatest Match;" "The Anti-Gravity Steal" by Gary Phillips; "White Hot Pistol" by Eric Beetner; "Art Kills" by Eric Van Lustbader (known for his Bourne series); and "Logan's Young Guns" by Nathan Walpow.
All Bookxy novellas are uniquely illustrated by some of the most renowned artists from today's pop culture including Dennis Calero, Roger Huyssen, Mark Maddox, Derek Riggs, Mac Sasso, Adam Shaw, William Stout, Jeroen ten Berg, Carolos Valenzuela, Mike Vosburg, Tony Washington and Bob Wynne.
Stark Raving Group specializes in crime fiction, hardboiled, mystery and pulp novellas, available through its website Bookxy.com. Bookxy novellas are available for just $2.99, and can be read on any device - computer, Smartphone, tablet, or Kindle.
About Stark Raving Group:
Stark Raving Group is a publishing group with an emphasis in eBooks. As creator of the Bookxy sales and distribution platform, Stark Raving Group brings novellas by renowned writers to market for readers. With a focus on taut, terse, plot-driven stories of roughly 70-120 pages, Stark Raving Group publishes crime, mystery, action-adventure and thriller, through the Bookxy platform. Its unique subscription service provides readers with additional savings, through one, two, and three year subscriptions. For more information visit www.bookxy.com