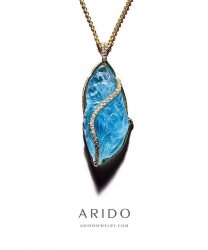 Manhattan, NY, February 21, 2014 --(
PR.com
)-- ARIDO is a company on the rise designing custom made pieces to an expanding exclusive eager clientele.
The jewelry is inspired by travel, art, nature, film and music.
The collection includes 18K white and yellow gold with a mixture of Gem Precious stones such as Sapphires, Rubies, Emeralds, Pearls, Jade, etc.
www.aridojewelry.com
March 2, 3, 4 2014
RSVP
info@aridojewelry.com
About ARIDO
Fine Art jewelry created with the highest quality gems and precious metals in the world. Unique custom designs with viewings available by appointment.
Founded by a scion of a family of jewelers dating back to the 11th century and a world class designer with a background in fashion, art, and history.
Timeless, handcrafted pieces to treasure forever.