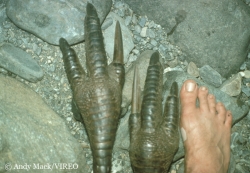 Pittsburgh, PA, February 21, 2014 --(
PR.com
)-- All three species of cassowary, birds known to kill adult men with a single kick, live on the rainforest-clad island of New Guinea. This island is home to the third largest block of intact tropical forest on Earth and by every measure is one of the most important remaining centers of biodiversity. Over two decades of effort by international conservation organizations operating in New Guinea have little tangible progress to show.
Author Andrew Mack, Ph.D. worked as a senior ecologist for two of the largest international conservation organizations to operate in New Guinea 1995-2007. He studied cassowaries in a remote field camp 1987-1993. Few conservation biologists have comparable field experience in New Guinea. In his new book he recounts these decades of research and conservation effort from the front line. He recounts the first field study of cassowaries in New Guinea and numerous novel discoveries (e.g., cassowaries communicate with infrasound, probably much like their dinosaur ancestors). He recounts conservation efforts from firsthand experience in his new book, Searching for Pekpek: Cassowaries and Conservation in the New Guinea Rainforest. In a clear no-holds-barred critique of conservation as it is practiced by international organizations, he exposes why their efforts are failing and will continue to fail without a realignment of priorities.
Despite the grim conservation prognosis, the author provides a clear mandate for change; change that could still save New Guinea's extraordinary biodiversity (four species of mammal that lay eggs!) before such species quietly slip into extinction.
Book previews and purchases available at
www.cassowaryconservation.com
Contact the author at andrew@cassowaryconservation.com or by phone 724-238-2324.