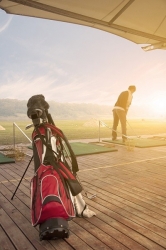 Las Vegas, NV, February 25, 2014 --(
PR.com
)-- An online marketplace launched for golf lessons at over 600 locations in the United States. The website,
PunchbowlGolf.com
, is a start-up that connects beginner golfers to pro instructors for in-person lessons.
The golf lesson industry has traditionally been marked by little competition and high fees. PunchbowlGolf.com pulls the rates of local private instructors and displays the rates of instruction at several local courses. The result is a competitive marketplace where viewers can see all of their options.
In total, the site has over 3,000 established partnerships with instructors, local driving ranges and golf courses. Instructors set their rates and availability and then are listed on the website for students to pick their favorite teacher. All instructors are trained and given a customized syllabus to instruct their students. Currently, the service utilizes over 550 of 3,000 registered instructors in all 50 states.
Not all golf courses were thrilled about the service when it originally launched in 2011. It closed through 2013 due to legal problems with golf courses threatening to take action on outside instruction.
At that time, they had very few locations and experienced resistance from most courses. Punchbowl Golf's director of services, Jamie Savignon, says, "We experienced a lot of hostility. Fortunately, I think some of them realized that the volume of requests we were getting and eventually realized that it was better to partner with us than fight us."
The company has reached out and now peacefully works with courses through a revenue share program.
PunchbowlGolf.com is owned by
Lesson Pro LLC
which was seen at the Empact Showcase in the United Nations. Lesson Pro has provided over 20,000 lessons through 10 web properties which feature private instruction marketplaces. Some of the other Lesson Pro sites include:
Goskate.com
and TennisProNow.com
Private golf instruction starts each student with the basics like; proper hand placement, getting the right footing, and upper-body technique. At more experienced levels, customized instruction starts at fixing a student's bad habits and decreasing their scores.
To get started, visit Punchbowlgolf.com, enter your zip code, and choose from a list of nearby courses. You can select an individual pro or the service can match them to a pro. Lessons are offered 7 days a week. Private lesson pricing starts at $47.50 per hour and up.