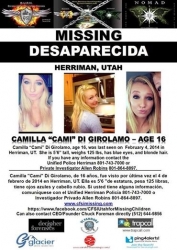 Salt Lake City, UT, February 25, 2014 --(
PR.com
)-- Author, Vinny DiGirolamo proposed a "
Buy a Book, Help Rescue a Family
" campaign this past weekend as a fundraiser to help locate and help his daughter, Cami. She is sixteen, the youngest of eleven children, and was adopted from Russia at age six (6) with two older sisters.
The DiGirolamos have created a page on Facebook to help get the word out, "
Bring Cami Home
" and have joined efforts with several agencies in their search.
Don't Forget the Children
is another website sponsored by the DiGirolamo family and was created as an International Adoption Advocacy site. It tells more about their adoption story.
Their small family was the December 2004 Christmas Story in Fredericksburg, Virginia,
article
and
video
, and they were more recently featured on
FOX 13 News
in Utah when Russia closed its doors to American adoptions.
DiGirolamo said, "Cami ran away three weeks ago near Sandy, Utah about fifteen miles south of Salt Lake City. We haven't heard from her in more than two weeks now. Thousands of volunteers have turned out to flyer and search for her. It's difficult to express the anguish we experience each day she remains hidden."
Many people have expressed empathy having experienced similar trials with wayward children and have given some measure of hope to them, but the effects are crippling. Dana DiGirolamo, Cami's mother was hospitalized with atrial fib, had to be sedated and shocked twice to regulate her heart rate.
"In my last text from Cami before ditching her phone number, she scoffed at our efforts to find her, saying, 'the police have more important things to do than search for missing 16 year olds, like murder and robbery.' What she doesn't understand is that loving parents will never stop searching."
The police will continue to act on any leads that are provided to them on any runaway, but Cami's trail has currently gone cold and we need everyone's help to find her. It is believed that she is still in Salt Lake or Utah County. DiGirolamo spent four hours in Salt Lake City Sunday night visiting the homeless shelter, temple square and spoke with many homeless people about Cami. One homeless man gave DiGirolamo his cell phone number in case he saw her.
"We're looking for creative ways to find her and prepare for her return. Please continue to spread the word on Cami's disappearance on every social network thread you participate in. Many prayers have been offered on our behalf and people are asking what more they can do. We've suggested the 'Buy a Book' campaign as one way to help out – not something for nothing – we truly need your help. Despite her current 'missing persons' status, we don't want Cami to become a forgotten statistic as so many runaways do. Please help us prove her wrong."
Also, please provide any leads to the Herriman Utah Unified Police Department on Cami's whereabouts. She often claims to be 19, but is a minor. If you are harboring her, please be advised that "harboring a minor" is illegal and you should inform authorities immediately.