"Need a Hero" is in the Running for the Best Android Game 2013 on Pocket Gamer - Renatus Media
Online voting for Pocket Gamer Awards 2014 has started. "Need a Hero" became one of the nominees for Android Game of the Year. The game was developed by Alis Games studio backed by Renatus Media, LLC, a leading game publisher and investor. Currently, it has over 700,000 downloads on Google Play.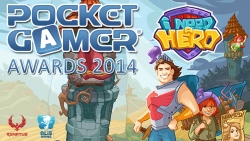 Palo Alto, CA, February 26, 2014 --(
PR.com
)-- It's time to sum up the last year's wins and losses to finally hand out the Best awards. Pocket Gamer, known as a famous mobile & handheld games web portal, announced the start of online voting for its annual Pocket Gamer Awards event.
There are 14 categories with 20 contestants in each. The winners are selected by online voting, where each user can give only 1 vote within the category. Mr. Know-it-alls and cheaters are highly recommended to stay away as PG is watching out for all types of fraud.
"Need a Hero" puts players into the extraordinary challenge built up from match 3 and role-playing elements. This fun-promising genre blend is quite a rare thing to find on Google Play, especially for free. Aside from that, "Need a Hero" has cool visuals and is full of sparkling dark humor. The app is a success in all respects.
It isn't an overstatement that "Need a Hero" is among PG's favorites, and not only theirs. First, it received a stellar review from Pocket Gamer, whose author compared it with a "slice of pocket heaven." Second, words were transformed into action bringing "Need a Hero" into the Top 10 best Android games of August 2013.
To crown it all, the game won the Best Mobile Game title and First Prize of $15,000 at the Winter Nights Mobile Games Competition held in the first week of February. That's definitely saying something since the panel of judges featured Chillingo, Rovio, Nevosoft, G5 Games, and other acclaimed gaming publishers.
The successful series of "Need a Hero" may be replenished with another title in the nearest future. Voting will be open until March 7, so anyone interested in liking the game are encouraged to vote. The results will be announced at the Game Developers Conference in San Francisco.
Visit
Online Pocket Gamer Awards 2014 voting
.
Get "Need a Hero" on
Google Play
.
About Renatus:
Renatus Media, LLC
is a leading company focused on publishing mobile and social games on the world's top platforms (iOS, Android, Facebook, etc.). Established in Palo Alto, California, only in 2012, it has already attracted over 10 million monthly active users to its top-notch game products, totalling more than 30 by now and produced in cooperation with 10 game development studios based in Eastern Europe (Ukraine, Russia, Belarus).
Renatus renders the whole package of publishing services, from game testing to driving games to the top with the best marketing techniques.
For more information visit:
http://renatus.com
Contact
Renatus Media, LLC
Mark Watt
+1 (415) 800-3522
renatus.com

Contact