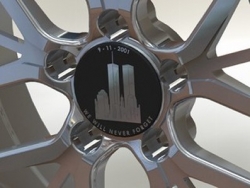 New York, NY, February 27, 2014 --(
PR.com
)-- Memorial Wheel Dot Com is now taking pre-orders through August 31st 2014, on which the site will be inactivated until February 1st 2015. All orders are due by then and should be expected by May 31st 2015, however, orders may be fulfilled much earlier than the due date. Pre-orders for 2016 will begin on February 1st 2015 in an ongoing cycle.
Earlier last year... A NYC Resident has designed an automotive wheel as memorabilia of the WTC towers with 10% from the sale of each benefiting a 9/11 related charity.
The wheel portrays crosses around the hub and an image of the World Trade Center towers is engraved in the hub.
"We lost many great Americans during this tragedy, and the fearlessness of all who came to the rescue amidst falling debris and zero visibility was astonishing," said Gordon who invented the wheel.
In the years since the tragic day, tons of memorabilia – from ceramic vases to t-shirts to plastic images of the towers – have been made available. Gordon said he hopes that ownership of these wheels become a part of the memory of this event and the WTC towers in ways resonate strength in unity and moving on.
"I designed this wheel to be invaluable asset and a great collectible for the American people, they are good looking wheels," Gordon said.
The wheel is available in 3 different sizes. Orders for the memorial wheel can be placed at
http://www.memorialwheel.com
Contact: info@memorialwheel.com
S. Gordon K Sabblah
Phone: 832-422-7158
Investors may call.