DUECO Inc. Recognized with Wisconsin Governor's Trailblazer Award
Award Recognizes DUECO as a Successful Third Generation Business Owned/Operated by Female Relatives of the Founder.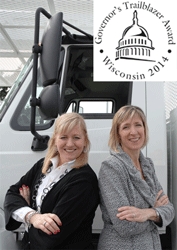 Waukesha, WI, March 03, 2014 --(
PR.com
)-- DUECO, the oldest and largest final-stage manufacturer of Terex aerial buckets and digger derricks in the nation, has been selected as a recipient of the 2014 Wisconsin Governor's Trailblazer Award for Women in Business.
The Governor's Trailblazer Awards honor the rich legacy of women's business ownership across Wisconsin. DUECO earned recognition in the Torchbearer category as a business that is owned and operated by female relatives of the founder and in operation for three generations or more. The awards recognize the substantial contributions women-owned businesses make to Wisconsin's economy – businesses that have sustained families and anchored communities. DUECO was commended for its leadership and the lasting economic benefits the company brings to the state of Wisconsin, as a third generation company creating jobs and promoting innovation.
A total of 13 awards will be presented in a ceremony at the State Capitol in Madison on April 9, 2014 followed by a luncheon at the Governor's Residence. In announcing the recipients, Wisconsin Governor, Scott Walker noted, "Private sector businesses are key to our state's job creation strategies. We are fortunate to have many women who have started a business and now employ their fellow Wisconsinites. I hope that these Trailblazers can serve as role models to other women who are considering opening a business and creating jobs."
Judie Taylor, President of DUECO, commented, "Marikris Coryell, DUECO's Executive Vice President and my sister, and I are excited to accept this award on behalf of our parents and grandparents and the many families who have served the DUECO organization over the past 59 years. As we look forward to our seventh decade in business, we continue to focus on our customers, providing outstanding support to those in the utility and related industries who keep the power on for all. We continue to focus on innovation to provide the best products and services in the industry while driving more efficient processes throughout our operations. We are a company that truly makes a difference for our customers, our employees and our communities and are grateful for this recognition, earned by the hard work of so many over six decades."
DUECO employs 340, 230 of those in Wisconsin, has manufacturing facilities in Waukesha, Wisconsin and Watertown, South Dakota and has six service centers spanning a 15 state territory from the Dakotas to the East Coast. The company represents more than a dozen other OEMS, services all brands of utility trucks and provides expert parts and training support. In 2014 it is launching a new e-commerce supply business providing parts, tools and accessories for utility and related customers.
About DUECO, Inc.
DUECO, Inc. is the largest independent provider of Terex bucket trucks, digger derricks, and cranes for the utility market in the nation, providing product and support in 15 states. DUECO also manufactures custom utility truck bodies and distributes mini derricks, aerial lifts, stringing equipment, trailers and a broad line of tooling and accessories for lineman and utility operations throughout the U.S. Family owned and operated since 1955, DUECO's philosophy of teamwork, integrity, and open communication with customers and employees ensures high quality equipment and support at the best value.
Contact
DUECO, Inc.
Louise Hermsen
800-558-4004
Direct Email: louise.hermsen@dueco.com
Direct Phone: 262-547-8500 x8212
Company Twitter: www.twitter.com/Dueco

Contact