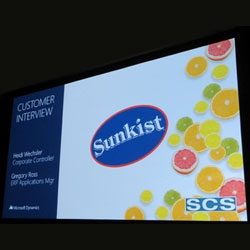 Atlanta, GA, March 04, 2014 --(
PR.com
)-- Convergence 2014, Microsoft Corporation's (Nasdaq "MSFT") premier event for its Dynamics business solutions community kicked off this morning at the Georgia World Congress Center in Atlanta. This year the annual event is bringing together over 12,000 Dynamics customers from around the globe to learn how to capitalize on technology to drive efficiency in their businesses, meet with Microsoft specialists and hear from other Microsoft Dynamics users. This year, SCS customer Sunkist Growers will be one of those users conference attendees hear from as the featured customer onstage during the Dynamics NAV General Session.
"We are pleased to have Sunkist Growers join us on stage at Convergence 2014 to share how they are benefiting from Microsoft Dynamics NAV," said Paul White, General Manager, Dynamics Marketing. "Sunkist Growers' story is a great example of how our customers and partners are using quick to deploy, simple to use business solutions from Microsoft to help drive growth and success."
Sunkist Growers Corporate Controller Heidi Wechsler and ERP Applications Manager Greg Ross will take the stage with Microsoft to describe how they are using Dynamics NAV in their billion-dollar organization. "We're honored to be featured at Convergence and look forward to the synergies of connecting with other Dynamics NAV users," commented Heidi. "We're also looking forward to the in-depth product session where we can learn more about Dynamics NAV and how to leverage more of its features and functionality," added Greg.
"Sunkist is a fantastic customer," remarked SCS CEO Kolbeinn Einarsson. "Their knowledge of ERP systems, best practices for implementation, and dedication to the success of their Dynamics NAV solution have made them the model customer for ERP implementation projects. Having them featured at Convergence is an excellent way to put a spotlight on the capabilities, flexibility and scalability of Dynamics NAV."
About SCS
Gold certified Microsoft Partner
SCS
is one of the largest Dynamics NAV partners in the US. In business for over 30 years, SCS has successfully implemented hundreds of Microsoft Dynamics NAV customers across a variety of industries including food and agriculture, high tech, energy, entertainment, manufacturing and distribution. With offices throughout the US, SCS services clients that range from family-owned businesses to Fortune 500 companies.
About Microsoft Dynamics
Microsoft Corporation (NASDAQ:MSFT), develops, licenses and supports software, services and hardware devices that help people and businesses worldwide to realize their full potential. Microsoft Dynamics designs modern business applications with intuitive tools that adapt to the way people and systems work, enabling businesses to rapidly deploy and stay one step ahead in a highly competitive, ever-changing world.
About Sunkist
Sunkist Growers is a citrus marketing cooperative, founded in 1893, which is owned by and operated for thousands of family farmers growing citrus in California and Arizona.