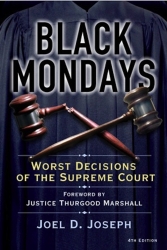 Los Angeles, CA, March 05, 2014 --(
PR.com
)-- Updated "Black Mondays: Worst Decisions of the Supreme Court" Published
Hard Cover: ISBN 978-0-9814510-6-0, $45.00
Paperback: ISBN 978-0-9814510-8-4, $20.00
Ebook/iBook: $9.95
Inprint Books announced the publication of the revised and significantly updated "Black Mondays: Worst Decisions of the Supreme Court (Fourth Edition)" by Joel D. Joseph. Justice Thurgood Marshall wrote the foreword for the first edition and it is included in this edition as well.
The author found, "The worst decision in recent history was Bush v. Gore in which the Supreme Court enacted a judicial coup d'état, installing George Bush as President of the United States, overruling Florida and Congress." Florida was not allowed to finish the counting of the ballots even though the Supreme Court ruled that prior counting violated the Constitution of the United States. Joseph added, "And by the way the Twelfth Amendment to the Constitution specifically provides that Congress shall count the votes of the presidential electors. If two competing slates of presidential electors from one state are presented to Congress, Congress, not the United States Supreme Court, decides which slate of electors are counted."
In 2008, President George W. Bush signed the Foreign Intelligence Surveillance Act Amendments into law that gave Chief Justice Roberts the power to appoint all members of the FISA Court without Senate confirmation. Concerning government spying, the Supreme Court has ruled that the ACLU does not have standing to challenge the Foreign Intelligence Surveillance Act, thus allowing virtually unlimited surveillance by the government.
In recent years, the Supreme Court has taken charge of gun control, video-game violence, campaign finance and class actions. It has taken power from States and cities and given them to corporations. "Corporations are people," the Court has announced, allowing unlimited corporate involvement in political campaigns. Corporations can now dictate that disputes with customers are settled in arbitration, not in court. The Supreme Court has ruled that these arbitrations cannot be class arbitrations overriding State law and individual rights.
Mr. Joseph blames the Supreme Court for overturning laws that regulated violent video games and limited gun control laws. "The Supreme Court ruled that California could not limit sales of violent video games to minors. Two of the mass shooters of this past year, Adam Lanza in Newtown, Connecticut and James Holmes in Aurora, Colorado, were violent video game addicts who acted out their fantasies in real life. The Court has blood on its hands, particularly Justice Scalia, who found that there is not connection between violent video games and actual violence."
The Supreme Court is now the center of controversy for gun control, voters' rights, civil rights, consumer rights, privacy and access to justice. This book will be the subject of many talk shows from coast to coast. The author will tour major U.S. cities including Los Angeles, San Francisco, New York, Chicago, Atlanta, Boston and Cleveland.
For More Information Contact:
Joel D. Joseph, 310-820-2211