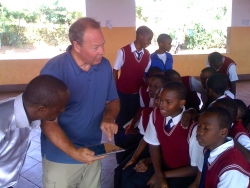 Hailey, ID, March 04, 2014 --(
PR.com
)-- Companies are no longer aiming to just produce quality products and increased sales revenue these days. There is a growing emphasis on giving back. However, finding philanthropic organizations, which utilize their employees and truly make a difference can be difficult. Salesforce.com and Nikon have recently chosen to "do good" with Make A Difference, Inc., a growing non-profit organization known for providing quality educational opportunities to vulnerable children and the schools they attend.
Volunteers from salesforce.com and their family members visited the Kilimanjaro Region of Tanzania October 1-10, raising $35,618 for Make A Difference (MAD), a U.S.-based 501(3)c international non-profit. The total includes money raised by employees, as well as matching funds and Champion Grants donated by the Salesforce.com Foundation.
Salesforce.com employees are given one percent of their time, or approximately 6 days, paid to volunteer at a non- profit of their choice. This is part of the company's 1/1/1 model of integrated corporate philanthropy, whereby the company offers one percent its time, technology and financial resources to help the non-profit community. Salesforce.com Executive Vice Chairman Frank van Veenendaal has supported MAD since its inception in 2009, traveled to Tanzania to volunteer with his family, and is a sponsor of one of the girls at MAD's orphanage.
The funds raised by the employees, are helping build a library that will serve more than 50,000 people in the Kilimanjaro area. The group plastered and painted the building, spent one on one time with the children playing sports, working on art projects and helping improve the children's computer skills with the help of 30 refurbished laptops, donated by Nikon. As an added value to their program, MAD makes sure all employees learn about the children's country and culture through an orientation on how to make a difference without creating dependency, introduction to the local language, and a cultural trip to learn about the tribe the children come from.
"Working with MAD and the children in Tanzania was truly life-changing," said Alexa Eversole, a communications & program manager at salesforce.com. "Despite their hardships and struggles, the children were loving, respectful, and happy. I saw the impact we were able to make by being present and invested in them."
To raise funds, the team reached out to friends, colleagues, and family. One of the unique fundraising ideas included a boat-racing event organized by, Tim Clarke, a senior account executive at salesforce.com based in London. Clarke, the top fundraiser for the group, raised an impressive $10,612, which included $5,000 matched by the Salesforce.com Foundation.
Clarke stated, "Besides raising valuable funds for MAD, the boat-race event increased team work and morale in the UK employees. I'm fortunate to work for a company like salesforce.com which recognizes the value of giving back by matching funds, and providing time off to volunteer to all employees."
MAD also raises funds through charity challenges such as climbing Kilimanjaro, Machu Picchu, Patagonia, as well as the base camp of Everest for education, More information on how to get involved with the organization can be found on their Join Us page at: www.gomadnow.org.
Make A Difference (MAD), is a certified 501(c)3 non-profit organization helping orphaned children through education and economic development at orphanages and schools. MAD funds orphans' educations through university, while offering job skill training and income-generating activities. MAD strives to maintain local ties to former children's remaining families and villages while keeping administrative costs to a minimum through utilizing volunteers and green, sustainable practices.