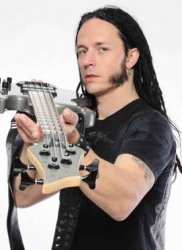 Austin, TX, March 06, 2014 --(
PR.com
)-- Austin based rock musician, John Moyer - best known as the bass player for the Grammy-nominated, multi-platinum selling hard rock band Disturbed (and currently performing with Adrenaline Mob and Queensryche) - announced today that he will debut his own clothing line on the Heart of Texas Rockfest stage during Austin's music week on Friday March 14th.
Inspired by his own unique "metal-meets-cowboy" style and his signature dreadlocks, Moyer has teamed up with Biohazard Apparel to create a line of clothing under the brand name DREAD™.
"What better way to celebrate the launch of this new business than here in my hometown of Austin during one of the most important weeks for music! And I could not think of a better venue than Adam Brewer's Rockfest stage," said Moyer. While Heart of Texas Rockfest is not officially part of the South by Southwest music conference, Brewer's outdoor stages at 7th and Neches have been providing more rock-centric bands with an alternative place to showcase during music week for the past 15 years.
"Having both lived in Austin, I have known John for a long time and I'm thrilled that we can provide him with a forum from which he can promote his new venture and help shine a spotlight back on balls to the wall rock and roll!" says Brewer.
Moyer's DREAD™ line won't be the only thing he will be showing off that night. Moyer has been expanding his music producer credits as of late and one of the bands that he is working with, the NJ-based band New Day Dawn, will perform immediately after Moyer's appearance. Moyer has produced 2 tracks on the band's last CD "Rise Above This", and is currently working with the band on tracks for their next release.
In addition to the expected types of apparel like tshirts and hoodies, the line will include some unique items such as smartphone cases, headware and vests.
"John is a perfect guy to partner with for this type of venture," says Kevin Kelly, Biohazard's CEO. "John has a strong sense of his own style and recognizes that it is smart for musicians to invest in and build their own personal brands."
Biohazard Apparel will also be on site all week at Rockfest to inform musicians and independent bands about their on-demand custom printing and online store services.
The launch will take place at 3:30pm at the outdoor stage at 7th and Neches on Friday, March 14th. For more information visit www.biohazardapparel.com or call 866-245-1272
About Biohazard Apparel: Biohazard Apparel™ is a professional merchandising and promotions company dedicated to serving the music and entertainment industry. They combine cutting edge social media technology and merchandising to create a unique service model that has the net result of increasing brand identity and revenue growth for their clients. Biohazard's founders, accomplished apparel decorators and IT specialists by trade, also pride themselves in being true music fans. They understand how difficult it is to survive in today's music industry and want to help.
About Texas Heart of Rockfest: The Heart of Texas Rockfest features the best in unsigned talent that Austin and the surrounding southwest region have to offer, as well as some of the best indie artists from across America and beyond. Launched in March 2000, the first Rockfest started humbly with one venue and sixteen bands in downtown Austin. Now in its 15th year, Rockfest boasts hundreds of indie acts in several nightclubs and two enormous outdoor stages. Motivated by the desire to support and promote the best yet-to-be discovered talent rising from the burgeoning Texas alternative rock scene, the event is strategically scheduled to coincide with Austin's annual South by Southwest (SXSW) Interactive Media, Film and Music Festival.
About New Day Dawn: New Day Dawn is an melodic hard rock band with "anthemic, big, bold choruses." This is due, in part, to the band's work with Chris Henderson (3 Doors Down) and John Moyer (Disturbed, Adrenaline Mob) each who produced tracks on their latest release. But also due to front lady, Dawn Botti's belief in doing whatever it takes to follow her dreams. For years she led a double life as a corporate executive and rock musician until 2012, when she was confronted with an ultimatum – "My boss said -push your music back down to a hobby level, or you can't work here." It was a choice Botti had thought about on a regular basis but she says when it was actually presented to her, "it was the easiest decision in the world to make. I'm not giving up music." www.newdaydawn.info