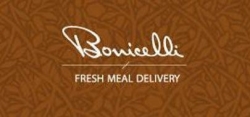 Minneapolis, MN, March 11, 2014 --(
PR.com
)-- Laura Bonicelli, chef/owner of Bonicelli Fresh Meal Delivery and Catering, has been revolutionizing meal delivery and catering in the Twin Cities for the past five years by offering fresh and flavorful food, made from scratch with unprocessed, locally and globally sourced organic ingredients. It's not just food, it's an experience. With the success of the Fresh Meal Delivery service, Bonicelli is hoping to launch a restaurant and retail space.
"We need a new space and we need the help of our community to do that. We have outgrown our current kitchen and are ready to expand the ways we bring our cooking to everyone," said Bonicelli.
While they plan to continue to offer meal delivery and catering, Bonicelli Fresh Meal Delivery is hoping to open a restaurant and retail space so that customers can have Bonicelli cooking any time. "We want to create a space where you come in to eat, take food out, or buy some of our signature products, soups, dressings, or granola. They also plan to expand the space into much more than a place to eat, but also into a place to learn. We hope to begin to host classes, teaching healthful cooking techniques as well as hold classes for children, teaching them the importance of learning cooking skills and good eating habits from an early start. We envision this as a place you feel at home – to be fed, sustained and welcomed as family."
Bonicelli Fresh Meal Delivery has grown cautiously over the years and finding the right space will allow the accompany to continue to produce a quality product for the public without overreaching.
For more information on Bonicelli Fresh Meal Delivery or on how you can help fund this project, please go to https://www.kickstarter.com/projects/1344611717/bonicellis-kitchen-and-table.