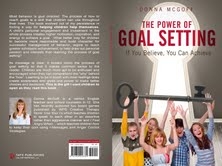 Jensen Beach, FL, March 13, 2014 --(
PR.com
)-- Author Donna McGoff announces the release of "The Power of Goal Setting".
Learning at an early age how to use a simple skill shows kids that they have the power to create their own destiny. Donna McGoff's new book, "The Power of Goal Setting", uses goal setting as a straightforward way of introducing how to exercise the mind to think positively and correctly.
Most behavior is goal directed. Learning the process of goal setting teaches children to become more responsible and build character for successful management of behavior, aspire to reach greater academic achievement, and help draw out personal passion and interest.
An excerpt from "The Power of Goal Setting" by Donna McGoff, M.S.
"Look all around you. What you see are things that someone created. Each of those things started out as an idea or thought in someone's mind. For example, we have light in our houses so that we can see at night. Thomas Edison had an idea in his mind to create a way for man to see without building a fire, lighting a candle, or using an oil lamp. Thomas Edison had a dream and created a goal to make that dream come true. His goal was to figure out a way to harness electric light so that man could easily use it in his home to make life easier and more enjoyable."
"The Power of Goal Setting" will keep young readers motivated and inspired because they are engaged in the process from start to finish. The author says, "This is the gift children open as they read this book."
"The Power of Goal Setting"
by Donna McGoff, M.S.
Soft Cover (6x9in.) 52 pages|ISBN9781629946382
Digital eBook download| ISBN: 9781629946382
Available at Barnes & Noble and Amazon
About the Author
Donna McGoff is a retired English teacher/School Counselor. She is the author of "Use Your I's" and "I Feel Angry When…" published by WPS Creative Therapy Store. This book evolved out of her persistence in finding a way for helping children help themselves by actively being engaged in the process and solution—creating a road map to reach the destination. She lives in Jensen Beach, FL.