One's Word Launches Online English School in Latin America; Provides 100 Free Trial Lessons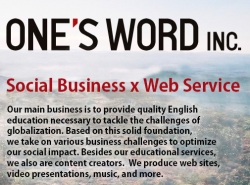 Mexico City, Mexico, March 13, 2014 --(
PR.com
)-- English will maintain and enhance its supremacy in the international business arena. In its quest to teach the English language globally, One's Word proudly launches its online English school in Latin America.
Spanish: http://oneswordonline.com/
Portuguese: https://pt.oneswordonline.com/
English:
http://global.oneswordonline.com/
One's Word, an English language training company, has recently announced the launch of its online English school in Latin America in March 2014. The online school will provide 100 free trial lessons to interested students on a first-come-first-serve basis. With the English language increasing its supremacy in international trade and communication, it is now a basic skill required by the entire global workforce. This can be held true for Latin American countries as well, that are striving to move ahead in global business, using English as the language of reference and commerce.
One's Word Online School in Latin America
One's Word hosts online English language training courses over Skype for audiences in many different parts of the word. The company is now moving into Latin America due to the sheer number of people struggling to improve their English language skills in order to avail employment opportunities within Latin America as well as in the developed world, including North America and Europe.
"English is the current language of international business and education," says Yuki Matsuoka, CEO of One's Word Inc. "By learning this basic skill, Latin American students and employment-seekers will be in a better position to compete for quality jobs in their homeland and abroad. For many years Hispanics have been sidelined to menial and downgraded jobs in the US and Europe; however, proficiency in English will grant them empowerment and this is the social business philosophy behind One's Word."
Starting its operations in Latin America from March, 2014, One's Word will conduct online sessions through Skype. The company will also launch a Spanish as well as Portuguese website in order to target all countries in Latin America.
About the Company
One's Word is a Japanese company that has been holding online English language classes in many different parts of the world for 4 years. Its "7 Keys to Fast Improvement in English" have helped One's Word receive excellent results wherever it operated. The company also hires teachers from Argentina and the Philippines, as part of its social business idea. For more information on One's Word way of teaching, log on to http://cooperate.oneswordonline.com/ To know more about the cost of the program and enrollment, visit the website
http://oneswordonline.com/
Contact
One's Word INC.
Yuki Matsuoka
81-50-5534-7682
corporate.oneswordonline.com/

Contact