The Writer and the Roofers Collaborate on a Book About the Boston Marathon Tragedy
Two brothers from a small town in Massachusetts were victims of the tragedy that occurred on April 15, 2013. After hearing their story, a writer teamed up to help them put their experiences into a book.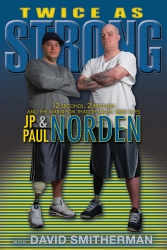 Boston, MA, March 13, 2014 --(
PR.com
)-- JP and Paul Norden, roofers from the small town of Stoneham, were waiting for a friend to run the marathon when the second explosion went off right beside them. Both brothers lost their right leg and suffered many injuries as a result. After hearing their story, writer Dave Smitherman teamed up with the duo to help chronicle their experience at the marathon and their journey to recovery. "Their story is amazing and they've been through a ridiculous amount of challenges, but they never give up," said Dave.
"Twice As Strong: 12 Seconds, 2 Brothers and the Marathon that Changed Their Lives" (Palari Publishing, ISBN 9781928662280) comes out April 1, 2014, in time for the anniversary of that tragic day in Boston history. The book is a comprehensive look at the brothers, their friends, and their struggle to get help after the explosion.
Readers also get insight from the perspective of the first responders and medical crew that helped the brothers and their family through the trauma. "The first time I did the stairs using my prosthetic correctly was a milestone," said Paul. During the rest of 2013, the entire Norden clan dealt with challenges as they learned to manage a new life with JP and Paul as amputees. Their determination and positive attitude has been an inspiration for thousands.
For interview requests with the Writer and the Roofers, contact us at (804) 355-1035 or info@twiceasstrong.com
Contact
Palari Publishing
Dave Smitherman
(804) 355-1035
twiceasstrong.com

Contact