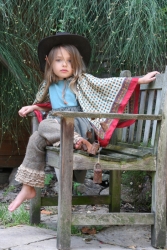 London, United Kingdom, October 04, 2007 --(
PR.com
)-- Bohemian, eye-catching and eco-friendly, Nixie Clothing is the children's wear label for the 21st century.
Beautiful vintage fabrics, reconditioned wools and sustainable fabrics are individually matched to create its exclusive collections. From one-off pieces to kid's couture, each piece is hand crafted in the UK.
The creative force behind Nixie Clothing is Nicole Frobusch. Used to spending her time in recording studios and on stage, she found that her lifestyle and priorities changed following the birth of her two daughters.
Finding it impossible to buy clothing for her girls which wasn't mass produced in appalling conditions, Nicole started Nixie Clothing in 2004 determined to make a change.
Nicole believes that every child is unique and their clothing should be an extension of their personality. The clothes are designed with children's needs and desires in mind: big pockets (to collect treasures), low bottoms for great comfort, legwarmers to protect their soft knees. Fabrics are soft and made of natural fibres.
The result is eclectic and yet ravishing, romantic and yet practical – a modern classic.
Nixie Clothing focuses on sustainability, aiming to protect the environment so that both people and nature can flourish, creating a culture that can last. This philosophy makes it an example in reducing, re-using and recycling as well as supporting Fair Trade and Sweatshop Free policies.
The Collections can be viewed on www. nixieclothing.com
###