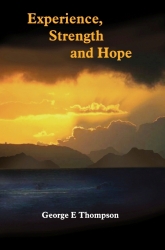 Ironton, MO, October 05, 2007 --(
PR.com
)-- Through verse, Thompson explores a wide array of topics. He shares his experiences with nature, depression, love and spirituality with candid realism. His unique writing style evokes all five senses through vivid imagery.
Thompson was inspired to write these poems by his experiences with suffering, loss and shame, but writing ultimately acted as his catharsis. He hopes that readers will relate as he shares his experiences, strength and hope in this intensely personal collection of poetry. He also hopes his work will inspire others to overcome adversity.
"Anything is possible and my book enlists strength from the reader," Thompson says. "I believe," he continues, "in the power of words, whether spoken, written, or communicated in sign language. They can raise us to the Heavens above or take us to the lowest pits of Hell. It's up to us," he states, "to use these words to raise our consciousness of ourselves and those around us."
Thompson was born in Ironton, Missouri where he was raised by a minister father and a loving mother. His family spent many years traveling the state before finally settling in Fulton, Missouri. His poetry has been recognized by the International Library of Poetry, the International Society of Poets, and his poems have been published in eight anthologies printed by the International Library of Poetry, including Invoking the Muse, The International Who's Who in Poetry and Songs of Honour (Noble House). Thompson enjoys performing his work. This is his first book, but he is currently working on a second anthology as well as an autobiographical novel that is under contract for publication by Xlibris Publishing Company, in Philadelphia. Thompson, now retired, once again makes his home in Ironton, MO. He has returned to his roots and enjoys feeding creatures in his back yard as a break from writing.
###