Thrilling Suspense Novel, "Saint Nellie" by Odal Madsen
"Saint Nellie" is a thrilling new suspense novel from Odal Madsen. It centers on a young girl and her mother, who engage the town's racist "witch" in an effort to win her over at the behest of the town pastor. In the process they will uncover more of Blackwell, Tennessee's macabre secrets than they ever wanted.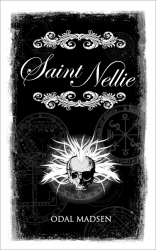 Nashville, TN, April 08, 2014 --(
PR.com
)-- Nashville Author Debuts Suspense Novel with Controversial Themes. The following is an excerpt from the book:
"I'm sure you've heard folks are afraid of what they don't understand."
Nellie's stare shifts and focuses on Mia's eyes.
Mia's stomach tightens. Her mouth is dry. She swabs with the cloth aimlessly, but the one-eyed gaze pierces her like an ice pick in her stomach. Nellie's voice shifts into low gear. "But sometimes they just know the devil when they see him."
Local business executive and author Odal Madsen debuted his novel "Saint Nellie" (280 pp., ebook, $3.99)on March 31, 2014. Madsen has spent the past four years working on the novel while staying active in Nashville's business scene, which he deems "an exhilarating challenge." The novel blends real world social issues with the allure of gritty black magic to create a compelling tale that will challenge readers' perceptions while thrilling them with its macabre narrative. "It's been a pleasure to conjure these characters," Madsen says, "Each of them is representative of interesting personalities I've come across in Nashville, and I feel like they play off of each other in a way that creates a tense, sometimes chilling atmosphere."
"Saint Nellie" centers around Mia Taylor, a fifteen year-old spending a stifling summer in Blackwell, Tennessee, trying her best to avoid standing out in a place where old ideas still have deep roots. However, what gnaws at the heart of Blackwell, Tennessee isn't just a community struggling to escape a history of racial violence, but something equally destructive, otherworldly, and older than time immemorial. Something the residents speak of in hushed tones and with furtive glances. Tales of the town's one-eyed "witch," Nellie McGruder, bubble at the pit of the town's consciousness, and rumors of the dark power wielded by the reclusive woman run rampant. Now, tasked with reaching out to Nellie McGruder, Mia and her mother are forced to look deeply into the soul of Blackwell, and what they find will utterly terrify them.
"Saint Nellie" is available on Amazon's Kindle Store now. Madsen is available for interviews and appearances. For booking presentations, media appearances, and/or interviews contact odal.madsen@gmail.com.
Contact:
Odal Madsen
Email: odal.madsen@gmail.com
Twitter: @odalmadsen
Website: www.odalmadsen.com
Contact
Saint Nellie
Odal Madsen
615-275-5012
http://www.odalmadsen.com/
Twitter: @odalmadsen

Contact