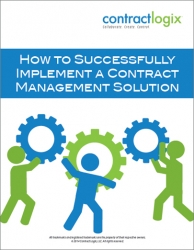 Chelmsford, MA, April 09, 2014 --(
PR.com
)-- Contract Logix, LLC, one of today's leading contract management software providers, released a new white paper titled "How to Successfully Implement a Contract Management Solution". This white paper explores the key elements of an effective contract management implementation strategy, including best practices, so your organization has all the tools it needs to be successful.
Effectively implementing contract management software is critical to the success of any organization. When the proper steps are taken upfront, you will immediately recognize benefits such as better accessibility to your data, contract automation, improved organization, and increased visibility throughout your company.
When the proper steps are taken upfront, the benefits of improved organization, accessibility, visibility and automation of contracts will be seen immediately. When the right preparation isn't made, however, it can result in issues such as delays in the contract cycle, failure to meet contractual obligation(s), breaches of contract, customer frustration and mistrust, or poor user adoption.
Learn how you can improve your contract management implementation process by downloading this white paper at http://contractlogix.hs-sites.com/white-paper-apr2014