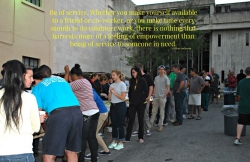 Orlando, FL, April 11, 2014 --(
PR.com
)-- The Orange County based organization Feed and Fortify its committed to providing services and programs that help children and families who are homeless or are dealing with life transitions in Central Florida.
According to the U.S. Census in Central Florida, 450,000 families are struggling to secure basic needs and over 63,000 students are dealing with life circumstances that impede them from securing housing.
Feed & Fortify CEO, Gloria Puerto, seasoned occupational therapist founded the organization to empower Central Florida "in need" community to have a second chance to improve their lives and overcome challenging circumstances. FFCO has served over 5,200 meals and has supported families and individuals secure food, clothing, shelter and social services.
FFCO Board of Directors Installation luncheon celebrates a brand new and strong alignment of business and community leaders who have committed to continue strengthening FFCO support operation and their principles of love, faith, service and purpose.
Special guest for the inaugural event include, Luis Martinez, City of Orlando Director of the Office of Multicultural Affairs, Tony Ortiz, City of Orlando Commissioner, District 2 and as keynote speaker Todd M. Piorkowski Ministry Leader "The hand that saved my life." Accompanied by the FFCO Legacy of Service Ambassadors and "The Team of 12" Recognition Ceremony.
FFCO, their members and board of directors would like to cordially invite the community to join the event and become part of a legacy of service.
The cost of the luncheon inaugural event is $25 per individual and $350 sponsor corporate tables (per request only) RSVP 407-900-9761. For tickets go to http://www.eventbrite.com/e/feed-fortify-installation-luncheon-tickets-11082033661?aff=efbevent