Ukraine Crisis and Asylum Seekers
Law Office of Alena Shautsova, a New York Immigration law firm located in Brooklyn , provides the full spectrum of immigration services including consultations regarding immigration benefits for citizens of troubled territories.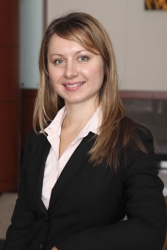 Brooklyn, NY, April 17, 2014 --(
PR.com
)-- The recent confrontations in and over Ukraine inevitably caused a wave of Ukrainian citizens who would like to flee Ukraine or who do not wish to return there. While there is no doubt that the country's political state is less than stable, and its citizens are divided over its political course, Crimea and Donetsk, and dates for the referendum, the question remains: is the current Ukrainian situation enough for somebody to be able to successfully claim
asylum in the United States
?
Despite troubling news from the Ukrainian region, so far, the United States did not announce any special immigration policy that would allow Ukrainian citizens to claim immigration benefits in the United States. It means that regardless of the gravity of the situation, every person who would like to receive asylum in the United States must abide by the general guidelines for asylum seekers.
To wit: one may successfully claim asylum in the United States if he or she has been a subject of persecution or has a well-founded fear of future persecution on account of race, religion, nationality, membership in a particular social group, or political opinion. The application for asylum can be filed only by an individual who is already in the United States or is at its port of entry: for example, a US airport. The applicant has to provide details of the alleged persecution with sufficient credibility. While the applicant's own testimony can be sufficient to establish eligibility for asylum, a document of proof should be offered in each case where it is reasonable to expect such proof to exist. The bottom line is that the burden of establishing asylum eligibility based on a protected ground is not a light one. There is no automatic grant of asylum just because a country where the applicant is from is in turmoil. Those who are filing unfounded applications for asylum may risk being placed in removal proceedings, and even charged with submitting false claims for asylum: a charge for which under the U.S. Immigration law there is no waiver.
Those who are not in the United States and are still in the country from which they fear persecution, may apply for a refugee status. The standard of proof and qualifications for this status are sufficiently the same as for asylum, and each case a person has to demonstrate that he or she qualifies for the protection.
It is obvious that not everyone will be able to qualify for asylum. However, there might be other options available for those persons who have family members in the United States or those who possess extraordinary abilities in the fields of sciences, business, arts and athletics. It is important to remember that each case is unique and each applicant should at least consult with an attorney before deciding his or her Immigration fate.
Law office of Alena Shautsova is a full service
New York Immigration law firm
; their
US Asylum lawyers
fight for their clients' immigration status; they fight for their clients' dreamed entry into the United States of America and ability to live without pressure of being deported; they take the worries regarding one's US immigration status out of one's life; they can be reached at 917-885-2261.
Contact
Law Office of Alena Shautsova
Alena Shautsova
(917) 885-2261
http://www.shautsova.com
http://www.russianspeakinglawyerny.com

Contact
Multimedia
Official, free form of the U.S. government, application for asylum and withholding of removal, I-589