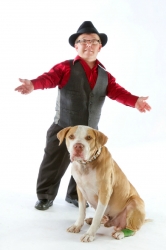 Seattle, WA, April 18, 2014 --(
PR.com
)-- The fight against animal cruelty will gain some serious pet power when Shorty Rossi, star of the runaway Animal Planet hit TV show, "Pit Boss" and "America's Cutest Pets," celebrity dog trainer and "Good Morning America" residential pet expert, Harrison Forbes, and national Pitbull advocate and Pinup for Pitbulls founder, Deirdre "Little Darling" Franklin, join over 150 local Seattle pet exhibitors, rescues and other advocates at the 2014 Seattle Pet Expo.
"Animal cruelty is often worsened by a lack of education about pets. Not to mention that most people have no idea how cruelty towards Pitbulls is promoted in their communities due to unfair laws or breed discrimination. It has to end and pet lovers are the only ones who can end it. It's time to say 'Enough,'" says Rossi. When Rossi isn't managing Shortywood Productions, a company that works with little people in the entertainment industry or filming "Pit Boss" or Animal Planet's newest show, "Americas's Cutest Pet," he's working with Shorty's Pitbull Rescue, a charity he formed that rescues, rehabilitates and places neglected and abused Pitbulls in loving, nurturing homes.
It isn't just Rossi who'll be there though; his canine co-star and service dog, Hercules, will attend the Seattle Pet Expo as well. Both will be there help teach pet owners about Breed Specific Legislation (BSL) - often referred to as breed discrimination - which refers to laws that target dogs based on how they look rather than their actions. Currently, BSL most often focuses on Pitbull-types, but many cities also target Rottweilers, German Shepherds, Doberman Pinchers, Chows and other large breeds.
Another major voice against breed discrimination is Deirdre "Little Darling" Franklin, founder and CEO of Pinups for Pitbulls. It's not enough that she's a national advocate, educator and "voice for the voiceless" - it's pet lovers who have to support any BSL or animal cruelty initiatives so that there can be real change for animals. At the Seattle Pet Expo, Franklin will let pet lovers know how they can take charge and effect change.
"Pet lovers can help end BSL is by telling their legislators that breed discrimination is simply wrong; hundreds of thousands of undeserving dogs are killed every year in our country - just because of how they look," explains Franklin. In January 2014, following in the footsteps of Utah which recently outlawed BSL in their state, Washington legislators took their first steps to prohibit BSL by introducing House Bill 2117 - a bill that currently sits in political limbo.
National Celebrity Dog Trainer and "NY Times" best-selling author, Harrison Forbes, who's a frequent guest on the "Today Show" (NBC) and "Good Morning America" (ABC) as their featured resident dog behavior expert, will share his expertise on pet behavior at the event. Forbes will also explain how Doggie DNA Testing can help people choose the right dog breed match for their lifestyle and offer advice on how to correct pet behavior problems.
"Most pets are abandoned or given up for adoption because of preventable - and easily fixable - behavior problems," explains Forbes. "I love that any well-behaved pet is welcome to attend the Seattle Pet Expo and am excited to once again help make a difference for pets and their families. Dog training not only brings happiness and peace into a home, but it strengthens the pet/owner bond. My methods are easy and, most importantly, they work."
The Seattle Pet Expo will also feature opportunities for fan photos and autographs with both Shorty Rossi and Harrison Forbes, along with more than 150 exhibitors, live entertainment and demonstrations, a Petfinder.com mega-adoption area with more than 250 rescue pets available for adoption and an exclusive dog "Cover Model" contest sponsored by "Seattle City Dog Magazine." Low-cost immunizations, discounted microchipping and free nails trims will also be available for all the furry friends who need them.
The event will take place on Saturday, April 26th, 2014 from 10am to 6pm, at Seattle Center's Exhibition Hall. This free, indoor and air-conditioned event is expected to attract nearly 10,000 attendees along with their furry, feathered and reptilian pals who are looking to enjoy a new and one-of-a-kind experience where all pets are welcome. All well-behaved pets are welcome, as long as they're on a fixed lead (or in a carrier) and have proof of age-appropriate rabies vaccines.
The 2014 Seattle Pet Expo is produced by Amazing Expos, a leading event production firm that currently produces more than 39 large pet expos across the United States. For more information, call 800.977.3609, email
expo@seattlepetexpo.com
or visit
seattlepetexpo.com
, facebook.com/seattlepetexpo or twitter.com/AmazingPetExpo.