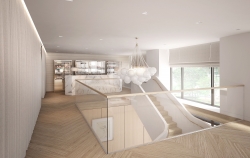 New York, NY, April 21, 2014 --(
PR.com
)-- Julien Farel, luxury hairstylist and entrepreneur, brings 'Power Beauty' to the home of the legendary Power Breakfast. Farel, with over 30 years of experience and a clientele ranging from A-list celebrities and world-class athletes to Fortune 500 business leaders, relocates his flagship Madison Avenue Salon to the newly renovated Loews Regency Hotel on Park Avenue, and unveils the Julien Farel Restore Salon & Spa, an unparalleled 10,000 square-foot state-of-the-art beauty destination and fitness center. Farel caters to the ultimate New Yorker and international travel set alike in this prime location, embracing a multi-disciplinary approach to Anti-Aging – literally, head-to-toe – that will offer the best of hairdressing, aesthetics, dermatology and fitness all under one glorious roof.
"We've curated an incredible team of professionals, exclusive products as well as unique new 'power treatments and services' to care for the needs of our clients and hotel guests at the iconic Loews Regency," says Farel. "We've always been known for our luxury beauty with efficiency so you can make the most of your time with us," explains Farel. The 'power' behind the treatments and services is versatile in scope and can stem from Anti-Aging efficacy or the ability to be performed quickly and simultaneously.
To meet the demands of morning warriors, the Salon & Spa opens at 7am by appointment and features 32 custom-designed cutting stations for clients who represent the 'who's who' of New York. For the utmost of privacy, one can also request multi-service VIP rooms. Farel's comprehensive treatment menu includes an exclusively trademarked list of 'Power Beauty' services from the 'Power Coif' and 'Power Highlights' to 'Power Manicures and Pedicures.' For the businessman looking for an elevated grooming experience, the Salon & Spa will unveil JF Men – a men's-only floor dedicated to full-service men's grooming – in May 2014.
For spa services and treatments, Farel has assembled a team of experts and doctors, led and medically supervised by the renowned dermatologist Dr. Doris Day, who will expertly address all facets of one's well-being and self-improvement through ongoing Roundtable sessions. Beyond a traditional spa, the Julien Farel Anti-Aging Spa features clinically proven Anti-Aging therapies that address sun damage, wrinkles, and other signs of aging without invasive surgery. Cutting edge advances in aesthetics coupled with the best of traditional spa services defines part of the 'Power Beauty' experience in the ten large treatment rooms, including seven massage and aesthetic rooms and three entirely secluded luxury VIP spaces. The treatment rooms also showcase multi-tasking chairs that allow one's feet to comfortably drop into a foot basin for a pedicure while indulging in a signature facial – a true 'Power Hour' of luxury. Of course, for clients who prefer to indulge at their leisure, they will be able to unwind in a place of refined tranquility, and get the rest, relaxation and restoration they are seeking.
According to CEO Suelyn Farel, who is the driving force behind The Julien Farel Group and the concept of the new space, "The new Julien Farel flagship is a reflection of our already-established presence in the luxury hotel space, and our keen understanding of our clients' and business travelers' needs and desires. Luxury beauty with efficiency is about redefining innovative high performance beauty products and services – because no other beauty brand executes in both worlds at our level."
Working in harmony with award-winning hospitality and residential design firm Meyer Davis Studio Inc., and inspired by modern Parisian décor that pays homage to Farel's French heritage, the new maison of Julien Farel features a creatively thought-out space that exudes luxury and reflects Farel's effortlessly chic and sophisticated style. The unique two-floor open concept includes such hallmark elements as floor-to-ceiling windows and a stunning fireplace, enveloping the space in natural sunlight and welcoming warmth, as well as a dedicated entrance on 61st. It will be appointed with elegant Maletti Italian furniture that innovatively enhances client comfort, such as shampoo chairs that melt into beds. Throughout the space hang carefully selected David LaChapelle photographs provided by Fashion Concepts to bring even more vibrancy than the already buzzing hair dryers.
"Julien is a leader in his field who will play an important role in the continued evolution of Loews Regency Hotel," offers Jonathan Tisch, Chairman of Loews Hotels & Resorts. "The Salon & Spa will add an unmatched level of sophistication to the property while enhancing the offerings we will provide our mutual clientele."
Farel's touch goes beyond the Salon & Spa to include a custom array of his renowned Anti-Aging Haircare & Body amenities in each of the redesigned 379 rooms and suites at Loews Regency on Park Avenue. Hotel guests enjoy the brand's groundbreaking product line, featuring Anti-Aging Balance 'A2B' Technology that delivers clinically proven Anti-Aging Bioactives to rejuvenate skin and hair with intense hydration, targeted repair and vital protection.
Julien Farel high-performance hairdryers are also included as one of the premium room amenities at Loews Regency, as well as all 19 Loews Hotels & Resorts properties nationwide, a unique point of difference for even the most sophisticated hotel settings.
About the Julien Farel Group
Julien Farel is one of the most celebrated names in the luxury haircare arena. He is the Chairman of the New York City born, French-American Julien Farel Group, which is driving innovation in the beauty industry not only through its transformative Anti-Aging products, but also through its unique services. With salons in New York, Miami and Cabo San Lucas, The Julien Farel Group also includes JF Gymnastique, a private studio offering a holistic fitness and wellness experience. Farel is also Founder of Julien Farel Anti-Aging Haircare, the groundbreaking product line launched in 2011 that gave rise to the Anti-Aging haircare revolution. His impressive roster of clients includes beauty editors, CEOs, and such A-list celebrities as Lauren Bush Lauren, Ivanka Trump, Salma Hayek, Gwyneth Paltrow, and Richard Gere. Farel has also been the Official hairstylist of the US Open Tennis Tournament since 2007, giving world-class tennis players, like long-time client Rafael Nadal, an aesthetic – and psychological – edge. He is one of the most prominent hairstylists in the world and has built a premiere luxury lifestyle beauty brand in a very short period of time, which can be attributed to his focus on client satisfaction, a rarely seen work ethic and a fierce drive to succeed. The new Julien Farel Restore Salon & Spa flagship at the Loews Regency is setting a new bar in the approach to Anti-Aging and revolutionizing the entire beauty industry. For more information, visit
www.julienfarel.com
.
About Loews Regency Hotel
The iconic Loews Regency Hotel reopened on January 16, 2014 following an extensive revitalization. The transformed property will features 379 guest rooms including 58 suites; The Regency Bar & Grill, which will host the "Power Breakfast" by the Sant Ambroeus Hospitality Group; and the new flagship salon of the famed hairstylist Julien Farel, which will incorporate a premier spa. Located in the heart of Midtown Manhattan on Park Avenue, Loews Regency has exceptional service and world-class amenities optimal for conducting business or taking advantage of the city's best shopping, cultural experiences, and dining. For reservations or more information about Loews Regency, call 1-800-23-LOEWS or visit:
www.loewshotels.com
.