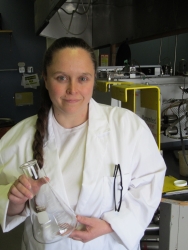 Calgary, Canada, April 23, 2014 --(
PR.com
)-- Oil production continues to surge in Alberta and with it the use of diluent, light oil mixed with heavy oil to obtain a consistency that is pipeline compatible. The demand and price of diluent continue to climb. Some sources suggest that the demand for diluent could hit 1,000,000 barrels per day by 2020.
Chemist and inventor, Christy Dewalt, has patented a new technology, EZ Flow, which will revolutionize how we produce and distribute oil. EZ Flow is an additive that accentuates the behavior of regular diluent allowing it to act as a "super" viscosity reducer. EZ Flow works to alter intermolecular bonds. Until now heavy oil producers have had to mix between 20% and 50% diluent to their oil to meet pipeline specifications. EZ Flow "super charges" the diluent making it more effective and requiring approximately 50% less diluent to meet pipeline specifications. EZ Flow works to alter intermolecular bonds and all of its ingredients are sourced from oil and gas reservoirs. When EZ Flow is used, less diluent is needed. Oil producers will save at least $4 to $5 per barrel in direct costs, net of the cost of the EZ Flow. Producers not only save the cost of the diluent but also the cost of shipping and handling that diluent. The impact of the savings is immediate and no additional capital equipment is needed. EZ Flow is added directly in to the producer's diluent tank.
In addition to the direct and immediate savings of using less diluent, EZ Flow has other benefits. It dissolves paraffin waxes, an enemy of the oil producer. The dissolving power that EZ Flow has results in breaking and eliminating line plugs; this reduces frequency of shut downs necessary for equipment cleaning, reduces pigging frequency, ensures hydrocarbon products mix more completely in mechanical processes and resolves a host of other problems typical to the oil producers and upgraders.
Despite all this EZ Flow has a barrier to overcome before moving to full production. Currently, there is not a producer willing to do a full-scale field test. Ms. Dewalt explains "We have tested EZ Flow for every conceivable circumstance in a controlled laboratory setting and it has proven itself there time and time again but it's time for a real field test. A comparative analysis at a producer's site where we run one line using a producer's regular blend and at the same time we run a second line from the same source, using less diluent with EZ Flow mixed in, is necessary to prove the efficiency of EZ Flow. Afterwards, we will measure and compare the results, having maintained scientific and engineering control of the two lines for the entire process."
To some this may seem over cautious, however Ms. Dewalt is a professional chemist and wants to give her future customers scientifically provable results from day one. She is the owner of Petroleum Field Laboratories in Fox Creek Alberta where she is well known to the areas' producers for her testing, chemical related services, and problem solving. Prior to this endeavor, she worked as a facility supervisor and chemist for a multinational gas and oil processing company, studying and analyzing field production in northern Alberta for eight years. Accompanied by her BSc studies in Chemistry and Industrial Manufacturing Engineering education completed with honors she is an expert in the field of fluids, including diluents and condensates. She has also become one of the Principals of Petro Motion Inc., an Alberta Company that has the worldwide rights to manage and distribute EZ Flow internationally. Ms. Dewalt is joined by James Robson, President of Petro Motion Inc., who has spent 30 years in the oil and gas industry. Mr. Robson's peers describe him as an individual with a well-rounded business acumen and a deep understanding of the oil industry. His career has many highlights including being the president of Tyner Texas Operating Company, a subsidiary of Tyner Resources Inc., a publicly traded oil company. In addition he was the founder, president and CEO of Pontotoc Production Co. Inc.
When asked about the initial reaction of producers Robson noted, "some producers are skeptical, but immediate savings without additional costs or equipment are real. Also 100% of the components of EZ Flow all come from oil and gas reservoirs so there is no reason to fear any kind of contamination or reaction."
Robson and Dewalt believe that this test may cost as much as $250,000. They qualify their position with the statement "we are ready. All we need is to find is a producer with a little entrepreneurial flair that would like to make at least $4 to $5 per barrel more than they currently making." Robson commented further, "When I was a small producer, I would have cherished the thought of making at least $4 to $5 per barrel more than my competition. I am sure there is a producer who thinks like me."
Additional information is available on the Company website
www.PetroMotion.com
and Mr. Robson invites a call from an interested producer at his direct line (972) 757-5757.