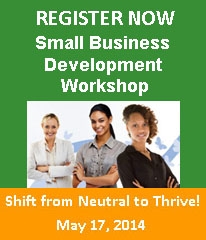 Washington, DC, April 22, 2014 --(
PR.com
)-- The major elements of small business success: management, financial practices, and social media marketing are the focus of The Small Business Development Workshop, hosted by not-for-profit organization, Sisters In Spirit (SIS), May 17, 2014, in Washington DC.
The event features a "From Surviving to Thriving" session that focuses on how to shift your business from survival mode by incorporating the key elements of a thriving business, presented by Sherrell T. Martin, CEO of Empower 2 Thrive, Business and Financial Management Company. Attendees will learn how to effectively use social media to expand business/brand recognition from Maya Chaplin-Glover, Public Relations & Strategic Communications Specialist; and John A. Leonard, Jr., Business Opportunity Specialist, Small Business Administration will tell attendees how to tap into available resources from the SBA -- all designed to help small businesses in the DC Metropolitan area thrive.
According to SIS Vice President, Debra Skyy Samuels: "The sessions are designed to provide, business owners with practical, easy to implement tools to shift their business from idling in neutral to thriving." The workshop is informal, and questions from participants are encouraged to help each participant receive the knowledge they need. The workshop will be held in the Adams Morgan neighborhood, at the Festival Center, 1640 Columbia Road, NW, Washington DC. 9:30 a.m. to 1:30 p.m. To register, or for additional information visit: http://www.sisters-in-spirit.net/517index.html email: skyy@sisters-in-spirit.net or call 202-421-4119.
Sisters In Spirit is a not-for-profit organization established to help women live in balance and harmony by providing inspiration, information and resources in the areas of health and wellness, personal and business finance, spirituality, lifestyle and eco living.